Red 5 Studios CEO Mark Kern took to the Firefall forums early Thursday morning to deliver the sad news that they were temporarily cutting out the PvP aspects of the game so the company could "completely rethink our PvP and re-implement it to the highest standards "
While clearly disappointing to fans of Firefall's PvP, this approach makes good sense from a development perspective. Firefall is an ambitious project, and Red 5 may have felt overwhelmed at having to develop both an innovative and enjoyable PvE game and a skill-based, competitive PvP experience.
Though both use the same engine and basic rules, they're essentially two different games, requiring their own tweaks and balances and offering their own development challenges. Skills that are fine in PvE are often overpowered/underpowered in PvP, or vice versa, leading to complaints, skill splits, or nerfs/boosts, which lead to more complaints from the side that liked the power as it was.

It's also worth noting that, while it seems somewhat odd, especially for a shooter, there's no requirement that every MMO game must have PvP. Several MMOs have gotten by with minimal to no PvP, and several games that do have PvP content tend to have it dwarfed by the huge amount of and frequent updates to PvE content. Sometimes, I wonder if companies just toss in PvP – usually in staid, tried-and-true modes like deathmatch, capture the flag, control points, etc. – "because it's supposed to be there."
Going out of your way to attract e-sports players, as Kern stated Red 5 is trying to do, is also fraught with peril, and even if Red 5 spends another year making their PvP "just right," the chances of it emerging as a force in the e-sports industry is slim.
Which brings up a point – should they even bother? Should the company devote that year to honing its competitive PvP or just spend its time and resources perfecting its PvE experience? If that 3% number Kern quotes is accurate, then it seems that many Firefall players don't care about e-sports, and possibly PvP in general.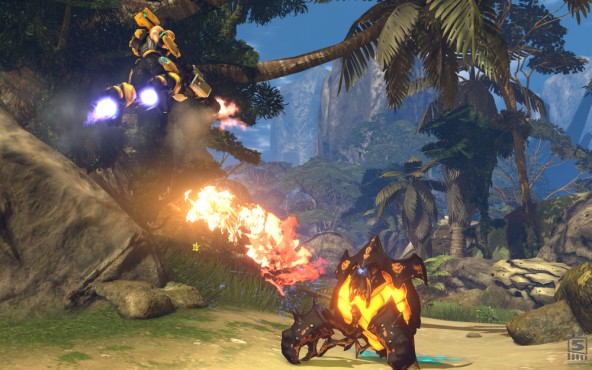 The argument could be made that so few people care about it because it's subpar, and that more development work would improve it, but it could also be the case that people really enjoy the rather unique PvE action of Firefall so much. If you've got a good thing going with those parts of the game, why not polish those and make them the best they can be? Then, if those are successful, look into expanding the game. Trying to do everything at once, especially with your first product, is rarely the best approach. Just ask 38 Studios.
Red 5 is a small-ish, indie studio that probably can't afford to stretch itself too thin, and its focus is already in question. Firefall's beta has been strung along indefinitely, the skill system has been revamped multiple times, and the company gets low marks from employee-review site Glassdoor.com.
Only 33% of employees and former employees approve of Kern, with comments about senior management ranging from "Find a vision for your company and stick with it" to "Massive feature creep and no cohesive vision have led to a project the feels all-over-the-place" to "Start saving up what money you can so you can pay severance to all employees that will inevitably be laid off when the game cannot deliver." Ouch.
Trying to build a PvE game, a PvP game, and an e-sport might be too much for one small company to handle. Thinking smaller and narrowing Firefall's focus might be the key to keeping it alive. If PvP is on the back burner, maybe it should stay there for a long while.
By Jason Winter