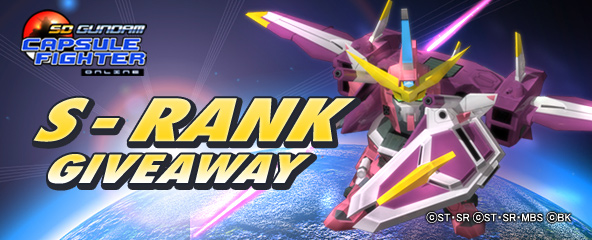 MMOBomb.com and OGPlanet have teamed up to give our users a code key which will grant you a free in-game item (a permanent S rank unit, Justice Gundam – top tier) for SD Gundam Capsule Fighter Online. To get your key you just need to click on the button bellow. Don't miss out on this offer!
SD Gundam Capsule Fighter Online is a free to play multiplayer third-person shooter game. With its fast-paced, easy-to-learn gameplay, Gundam fans and newcomers alike will collect a wide variety of customizable units and battle in missions based on events from the series.
Your browser does not support iframes. For having access to this giveaway you need to enable them.
How to get and use your Key:
1. Log in to your MMOBomb account to get your key. If you don't have one, register for free HERE.
2. Copy and paste your key to a safe place as you may not be able to retrieve it once closing your browser.
3. If you haven't, register for an account at ogplanet here.
4. Redeem your item here.
5. Make sure you never miss a giveaway, follow our updates via Facebook, Twitter or sign up for our daily newsletter, it´s free!
6. Have Fun
Note:
– You must have an active account from SD Gundam Capsule Fighter Online to receive this item
– Only one unit per an account
SD Gundam Capsule Fighter Online Gameplay Video