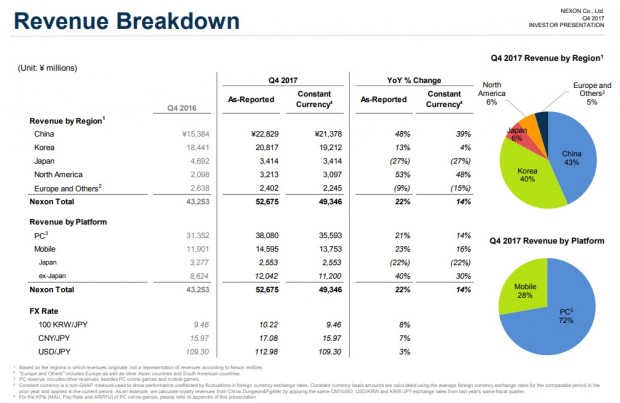 Everything was rosy and bright for Nexon in last quarter's financial report. This time around, it's more of the same. The first words in Nexon's Q4 financial reports summary are "Record-breaking annual results" and they're followed up by "Highest Q4 Revenues and Operating Income ever," so it was a great time for everyone, right? Well, almost everyone …
As usual, Dungeon&Fighter and MapleStory lead the way, with both games realizing double-digit percentage year-over-year growth. A trio of new mobile games in Korea, OVERHIT, AxE, and Dark Avenger 3, are also credited with helping the company's fortunes. It's a bit of a different story in Japan, however, which saw a "Year-over-year decrease primarily due to the deceleration of mobile browser games and Tree of Savior."
In North America, though, things are looking great!

That sudden growth is "driven by contribution from Pixelberry Studios," which Nexon acquired in November. Not mentioned anywhere in the report is LawBreakers, which is probably not the greatest sign. Then again, it's been a while since we heard anything about WildStar in NCSoft's financials, and it's still going. Then again, this conversation from the transcript from a portion of the investors' call, as discovered by MMOs.com, where CEO Owen Mahoney doesn't correct someone who says LawBreakers would be shutting down, might seem to indicate otherwise.
You can read the entire financial report on the Nexon press release page.