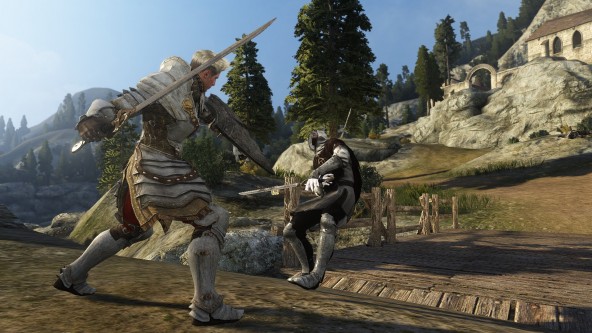 Back in June, it was reported Korean developer Pearl Abyss was in talks with an unknown publisher to bring the studio's upcoming sandbox MMO Black Desert to western regions. Now, foreign games review site Steparu has just confirmed publishing duties for the North American and European versions of Black Desert will be handled by Black Desert's current Korean publisher, Daum Communications.
As far as we can tell, Black Desert will be Daum's first attempt at publishing a title in the Western market. The company is most famous for being one of South Korea's largest web portals, and already acts as the official publisher for other notable titles in South Korea, including SOE's Planetside 2.
Pearl Abyss has already been shown to have an English client in the works, but the publisher reveal did not come with any additional information regarding Western beta dates. Meanwhile, Black Desert's third Korean closed beta test will take place sometime in late August to September. After the closed beta wraps up, Pearl Abyss will conduct the Open Beta test a few months later.