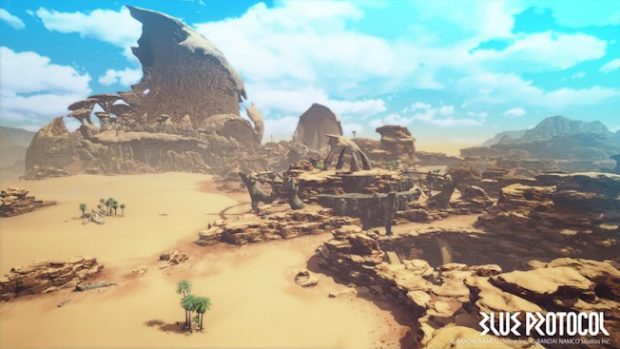 A new desert zone is being prepared for Bandai Namco's Blue Protocol. Not a lot is known about the zone yet — other than that it's a desert and there's some sort of a desert-serpent skulking around out there. This information comes via the Blue Protocol Twitter account, where they recently posted two tweets. The first shows the landscape filled with craggy mountains, odd rock formations, and the occasional smattering of plants. According to the tweet (as translated via Google), the area is named Salamzart Oasis and it was first shown in an edition of Bull Pro Communication.
最新の開発情報をお届け!
今回はブルプロ通信番外編でもお見せしたサラムザート・オアシスの周辺環境をご紹介!
拠点から足を延ばすと、広大な砂漠が眼前に現れます。#ブルプロ #BlueProtocol pic.twitter.com/HiLkMulVuI

— BLUE PROTOCOL (@BLUEPROTOCOL_JP) November 20, 2020
The second shows one of the creatures that roams around the area. It appears to be an armored serpent of some sort. Unfortunately, they didn't provide a name for him. But you can still check him out below.
続いて砂漠エリアに生息するエネミーをご紹介!
この他にも個性溢れるエネミーを製作しておりますので
楽しみにお待ちいただければと思います。#ブルプロ #BlueProtocol pic.twitter.com/rP0wDBoTbj

— BLUE PROTOCOL (@BLUEPROTOCOL_JP) November 20, 2020