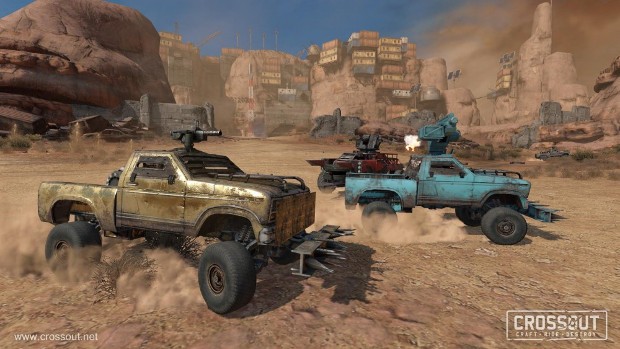 Gaijin Entertainment's upcoming free-to-play multiplayer action-racing game CROSSOUT is now available as a Steam Early Access offering. Those wanting to get in on the action early can do so now at a cost of $29.99. Those willing to wait can join in later when the game officially launches.
To gamers willing to drop the cash and support the game pre-launch, Gaijin is offering special Early Beta Access rewards. In addition to access to the game, purchasers will also receive 2,000 in-game coins, a unique armored 'Bloodhound' vehicle, 2 'Sledgehammer' shotgun vehicle weapons, a unique character portrait: 'Aleph', a dark red paint can, and the Scorched Earth pattern to decorate their vehicles with.
It should be noted that according to the developer, vehicles obtained via bundles will have "particularly well-balanced weapons, high armor quality, and speed in combat". So for the more competitive among us, an early access bundle may be the way to go.
Full details on Early Access and CROSSOUT itself can be found on Steam.