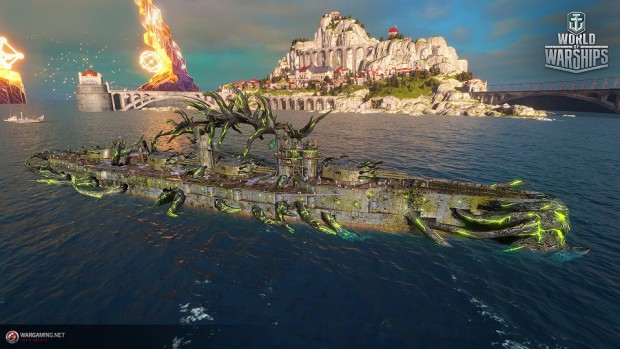 Rasputin is hard to kill. No, seriously, he is. Wargaming kicked off the Halloween festivities in World of Warships with a PvE mission to escort a ship past the Mad Monk and his otherworldly forces, and in part two, captains will be tasked with a more offensive mission.
In "Sunray in the Darkness," the forces of evil are emerging from a portal, and they're accompanied by a green mist that destroys everything in its path — except, naturally, enemy ships, which are healed by the miasma. Captains can take the helm of four ships, one of each class and each coming with unique special abilities, to beat back the hordes.
Your score in the mission depends on your effectiveness and how well you complete bonus tasks. Each star awards you with a special Halloween loot container that can contain flags, free XP, credits, and camouflage, including a rare Halloween permanent camo.
The event starts on Oct. 25 and runs until the (unspecified date of) the next update. You can learn more about this event on the World of Warships site.