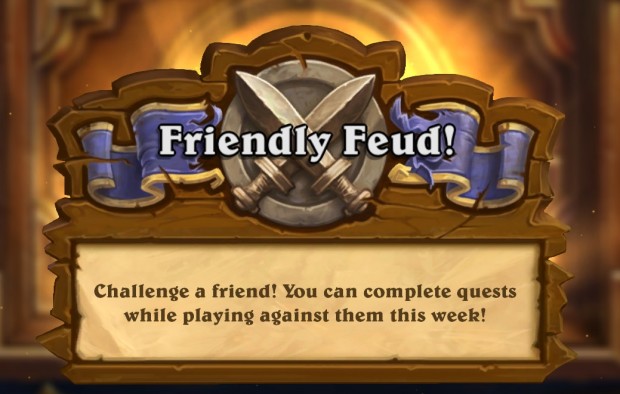 If you've got quests in Hearthstone, you can't fulfill them by playing against friends. That makes some sense; letting a friend beat you down — or vice versa — just so you can gain quick gold from your quests seems a little like gaming the system.
Blizzard's decided to change all that, though, with a pair of notable additions to the game, one temporary and one more permanent. First of all, there's the Friendly Feud event, which will let players complete their normal quests by challenging friends. That lasts until July 24.
Also in the mix is the new Challenge a Friend quest, which was added to the game last week and rewards players 80 gold simply for playing against a friend. Both friends get the gold, and it's warned that you need to "Be sure to finish your games to collect your winnings," so don't be too hasty with that Concede button.
These changes go hand in hand with the new Recruit a Friend promotion going on right now in Hearthstone, which can earn you the alternate shaman hero, Morgl the Oracle. You can read more about the new friendly quests on the Hearthstone site.