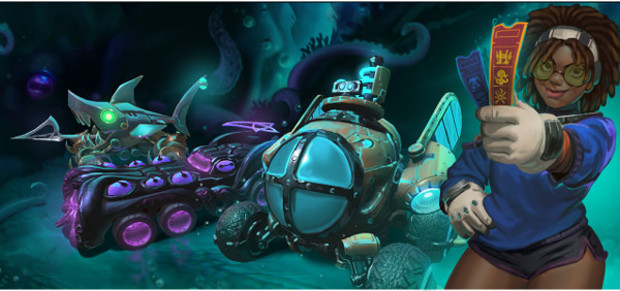 Heavy Metal Machines is heading into the deep, deep ocean in the second season of its Metal Pass. Titled "Into the Abyss," the new update takes the twisted action of Hoplon's car-themed MOBA and adds a little Lovecraft-ian style to it — in the form of vehicles with sharks and tentacles. There's even one that looks like a submarine.
Also included in the update is a new character: a lady from space who pilots a hover equipped with satellites that orbit Metal City. Stargazer's abilities all have a sci-fi theme. This includes Life Support System, which uses lasers to heal allies, an Orbital Beam attack, and the teleport ability Warp.
Patch notes for the new update, with specifics on each of Stargazer's abilities and general update information, are available on the Heavy Metal Machines Steam page.