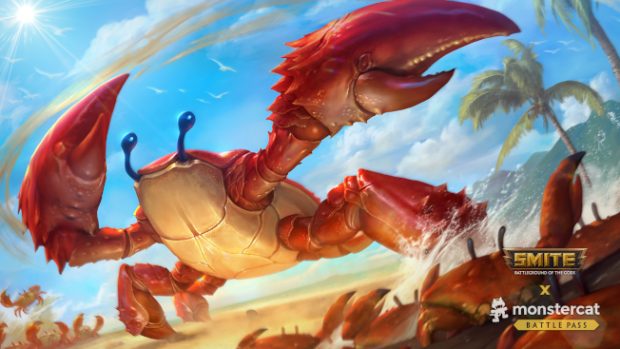 Ah… It's always sad when you're no longer the top crustacean skin for an Egyptian scarab god. That might explain why Smite's Rock Lobster Khrepri is pouting at the end of the Crab Rave Khepri video posted on Twitter earlier today to celebrate the launch of the Monstercat Battlepass.
Teased a good bit earlier, the battlepass features Slushii, SullivanKing, Koven, and Noisestorm — offering skins, avatars, frames, emotes, and music inspired by each. Players can now pick up the Shlushii Hades, Sullivan King Gilgamesh, Koven Chang'e, and Crab Rave Khepri skins via the battlepass. Also included are the Slushii Recall Skin, a Monolith Ward Skin, and the Koven level up Skin. All of these are part of the paid track battle pass, available at 700 gems.
For those just doing the free track, there are still some goodies, although, you'll miss out on those skins. These include a Sullivan King Announcer Pack, and Slushii and Koven music themes.
🦀🦀🦀🦀🦀🦀🦀🦀🦀🦀

PREPARE FOR 🦀 RAVE!!! pic.twitter.com/EJvalaepe9

— SMITE (@SMITEGame) May 18, 2021