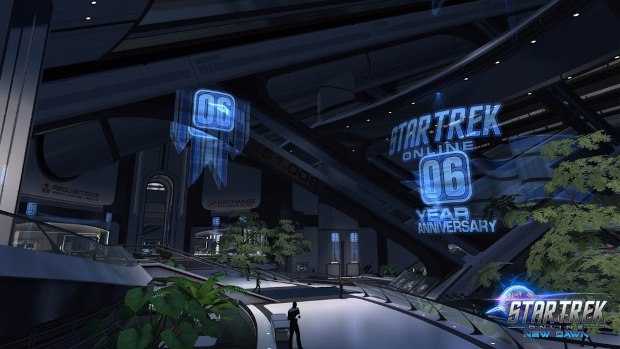 Star Trek Online is turning six, and Perfect World Entertainment and Cryptic Studios are ready to celebrate.
To commemorate the milestone and thank players for their support, the developers of the free-to-play sci-fi MMO are holding server-wide giveaways, as well as the return of the annual Anniversary Event. The event will kick off Jan. 28 and last until Feb. 24. In addition, players will get the chance to experience a new episode titled "Time and Tide." Other festivities include the return of Omega Molecule Stabilization and a series of mini-games players can take part in in order to earn item upgrades or even a Tier 6 Krenim Science Vessel.
In conjunction with the nearly month-long festivities, players can also log in between Jan. 26 and Feb. 1 to participate in the Anniversary C-Store giveaways and collect free rewards from the store every 24 hours. Giveaway items will be revealed on the STO blog.
To participate in the event, players will need to meet up with Q — Star Trek's Q, not me — at the Earth Space Dock or First City. More information can be found on the game's site.