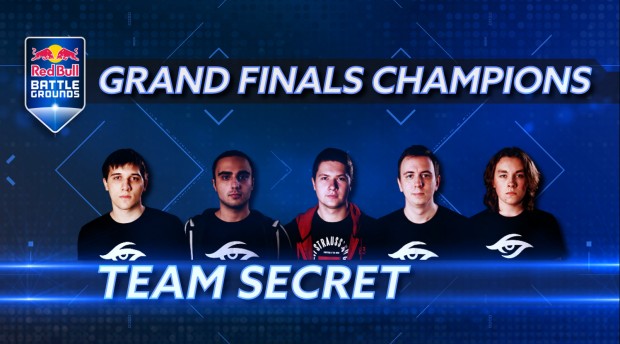 This weekend the Red Bull Battle Grounds: DOTA 2 tournament came to a close as Team Secret (Europe) edged out Invictus Gaming (China) in a 3-2 victory. Not only did Team Secret walk away with the bulk of the $88,000 prize pool, but they also emerged as the first ever Red Bull Battle Grounds Champion.
As the two teams met on stage, captains Zeng "Faith" Hongda from Invictus Gaming and Gustav "s4" Magnusson from Team Secret were confident, both predicting a 3-0 outcome for this best of five Grand Finals faceoff. Once the battle was underway, the teams volleyed wins back and forth. Taking the tournament all the way to match five, even the event analysts were unable to make a prediction. As the crowd chanted 'Let's go Secret!' in a final flurry of firepower, Team Secret won the tournament series.
Preceding the grand finals, fans were treated to a spirited All-Stars match to warm up the stage. The winners of the just-for-fun Red Bull LAN fan event the night before, amateur players Don "DonSnow" Do and Brian "Letz_Rosh" Tran took a turn as team captains, assembling their own line-up of revered pros to join them in a once-in-a-lifetime eSports experience. Competing in a special exhibition match, they got a taste of the pro gamer life, playing for the crowd alongside Dota 2 legends including Chai "Mushi" Yee Fung (Team Malaysia) and Andrey "Dread" Golubev (HellRaisers), who competed in the Red Bull Battle Grounds: Dota 2 Playoffs in Santa Monica earlier in the week.
Congratulations to Team Secret. What game would you like to see next in the Red Bull Battle Grounds series?