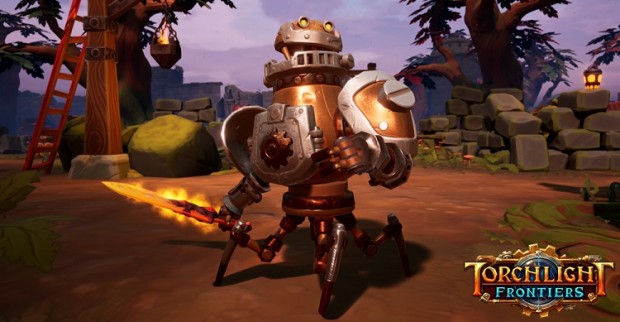 When the bullet points of a new feature include "Basically gives your character super powers," it has to be cool. That's one of the highlights of relic weapons, which the developers of Torchlight Frontiers revealed in a blog today.
You can briefly swap relic weapons with your primary weapon to activate the aforementioned super powers, and they gain levels as you progress, gaining stats, new affixes, and unique skills. Relic weapons are gained through crafting, and won't require "ultra rare RNG-based drops" for materials. Instead, you'll just have to get to certain places and defeat certain monsters to earn the rare materials needed to craft them.
Relic weapons are "all about widening the options players have to build their character" and are meant to serve as a "wide open space to think of crazy mechanics and skills." Echtra Games give players three examples of relic weapons in the blog: the poisonous staff Bane, the fiery sword Fire Striker, and the even more fiery sword, Flaming Destroyer.
As yet, we haven't heard if Torchlight Frontiers will be free-to-play, but given that Perfect World is the publisher, we're placing odds that it will be. Echtra Games says on the blog that "we're not even in Alpha yet," so it might still be a while before we get confirmation on that point.