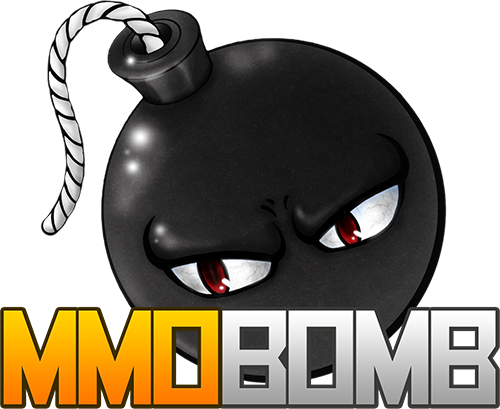 Who we are:
MMOBomb.com is the leading portal about free-to-play multiplayer games with over 1 million monthly readership worldwide, developed by members with several years of experience in video-games journalism and by players from all over the world.
More than just a gaming website, MMOBomb.com is a independent distribution platform of free to play games with an extensive gaming community. MMOBomb.com aims to constantly improve itself while at the same time offering tools so that Publishers, Developers and Members may share and feature their views, consequently turning MMOBomb.com into the mandatory destination for productive and intelligent discussions concerning free-to-play games.
MMOBomb is owned and operated by the independent company, Digiwalls Media.
MMOBomb Team
Michael Byrne
Editor-in-Chief
Mike "Magicman" Byrne has been a part of the MMOBomb family for years and serves as the site's current Editor-in-Chief. His love for MMOs and gaming in general has led him to covering games for numerous websites including Gamebreaker TV and XIV Nation where he proudly displays his fanboy flag for FFXIV:ARR.
Marlowe Ethos
Show Host
Marlowe posts his experiences and in-depth thoughts on current video games, the gaming industry and being an indie developer working on his first commercial game, Samurai Zero. Marlowe is also the host of MMOBomb's series, Free To Play Weekly. See gaming in a new light!
Jason Winter
Editor
Jason Winter is a veteran gaming journalist, he brings a wide range of experience to MMOBomb, including two years with Beckett Media where he served as the editor of the leading gaming magazine Massive Online Gamer. He has also written professionally for several gaming websites.
Troy Blackburn
Collaborator
Myth. Legend. Icon. No one uses these words to describe Troy, but don't tell him that. After years of reporting on the video games industry, the man they call Noobfridge is mostly known these days for hot takes and strong opinions - right or wrong, popular or unpopular. Troy sleeps well at night telling himself he's very slightly internet famous.
QuintLyn Bowers
Editor
QuintLyn is a long-time lover of all things video game related will happily talk about them to anyone that will listen. She began writing about games for various hobby sites a little over ten years ago and has taken on various roles in the games community. For the past five years she's been a writer at Gamebreaker TV.
Luis Dobreira
Founder
Luis Dobreira founded MMOBomb back in 2008 and currently oversees the growth and operations of the company behind MMOBomb, Digiwalls Media. In the past, among other gaming related projects, he used to work for one of the most popular gaming websites in Portuguese.
MMOBomb History
| | |
| --- | --- |
| March 2019 | MMOBomb launches MMOBomb version 3.0! The update introduces a new layout and a ton of new features. |
| October 2015 | QuintLyn Bowers, former GameBreaker editor, becomes editor on MMOBomb! |
| September 2014 | MMOBomb Announces Android App! Users can now download the MMOBomb Android app via Google Play here. |
| August 2014 | MMOBomb 2.0 is here! MMOBomb gets massive update and new features. |
| July 2014 | MMOBomb Kicks Off New Partnership with Polaris Network, the Maker's sub-network for video game culture (It includes channels such as PewDiePie, The Yogscast, CaptainSparklez and more). |
| July 2014 | Veteran gaming journalist, Brittany Vincent, joins MMOBomb. She's also a prolific freelancer, contributing to outlets like G4TV.com, Joystiq, IGN, GamesRadar, Destructoid, Kotaku and more. |
| June 2014 | MMOBomb and Reto-Moto have teamed up to give away a few exclusive MMOBomb-themed weapons and three free days of VIP membership! |
| March 2014 | MMOBomb mascot was revealed as a pet character in the game AirMech, and looks so awesome! |
| July 2013 | MMOBomb Youtube Channel reaches 100.000 subscribers! Thanks for all your support. |
| May 2013 | MMOBomb brings on former Massive Online Gamer editor Jason Winter, veteran gaming writer and editor joins as writer and podcast co-host. |
| December 2012 | MMOBomb Hit Over 1 Million Unique Visitors In December, MMOBomb passed a major traffic milestone by recording 1,053,782 unique visitors. |
| December 2012 | MMOBomb.com launched the largest and most epic giveaway in the Free to Play gaming history! |
| August 2012 | MMOBomb mascot makes its first in-game appearance in Blacklight Retribution. |
| July 2012 | MMOHut Editor-in-Chief Becomes US Editor on MMOBomb.com |
| June 2012 | MMOBomb.com partners with own3D.tv and G2PO.com |
| May 2012 | MMOBomb.com reaches 100,000 registered users with almost a million unique visitors per month worldwide. |
| March 2012 | MMOBomb.com partners with Twitch.tv for Live Broadcasting |
| January 2012 | MMOBomb launches their first podcast (and videocast) "Free to Play Cast". |
| October 2011 | MMOBomb's web show "Free to Play Weekly" expands and is now available on iTunes, Tivo, Blip.tv, Miro, among others. |
| October 2011 | MMOBomb.com partners with ScrewAttack LLC for content collaboration and "Free to Play Weekly" joins the list of ScrewAttack.com shows. |
| September 2011 | MMOBomb.com partners with Maker Studios Inc (the #1 producer and distributor of online video) and the MMOBomb´s YouTube Channel joins the TGS network being featured with other top YouTubers in the network. |
| August 2011 | MMOBomb is featured on Runes of Magic ad campaign and trailer. |
| August 2011 | MMOBomb breaks 1 million unique visitors. |
| July 2011 | MMOBomb.com partners with Overwolf ltd. to offer multipurpose client (MMOBomb Client). |
| April 2011 | MMOBomb.com relaunches with a different name, bigger team and bigger website. |
| September 2008 | Our adventure started back in 2008 with a small blog about MMO games. |
Some of Our Partners
For more than 10 years, MMOBomb.com and Digiwalls Media partnered up with incredible companies like Sony Online Entertainment, Square Enix, Paradox Interactive, Warner Bros Entertainment, Bandai Namco, Wargaming,
Perfect World
Entertainment, Nexon, and hundreds more.
We'd Like to thank…
Michael Dunaway, Zach Sharpes, Wendy Luo, Luisa Testa, Brittany Vincent, Sejiro, Brim, Damina, Havek, Zarah, Selfius, Ciril, Kevin, Aleksandr Levashov, Vitor Braz, Kahyln, Jessica Brohard, Alester, Chips, Shadey, Hannah Noble, Chris, Danny OO.
Unfortunately we can´t include everyone on the list so we will leave a big thank you to the past editors, freelancers, and collaborators, and also a special thank you to all the MMOBombers, and companies behind MMOBomb.com.