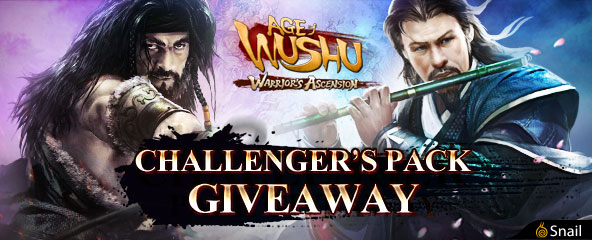 MMOBomb and Snail Games have teamed up to giveaway challenger packs for Age of Wushu just in time for the MMO's latest expansion, Warrior's Ascension. To get your code key you just need to click on the button below. Get your key now while supplies last
Your browser does not support iframes. For having access to this giveaway you need to enable them.
The fifth free content expansion for Age of Wushu, Warrior's Ascension adds several new PvP features including the new Sky Ladder, where players can challenge worthy opponents from the entire community to win new skills and loot. New battleground rankings show off each player's personal performance with the top 10 going on to become "Battle Masters", opening up new powerful Jade Gear.
How to get and use your Key:
1. Log in to your MMOBomb account to get your key. If you don't have one, register for free HERE.
2. Register for a Age of Wushu account here.
3. Log in, and redeem your code here.
4. Play the game and have fun!
5. Make sure you never miss a giveaway, follow our updates via Facebook and Twitter!
6. That's it, enjoy!
This Key contains the following items:
Jade Rabbit (30 days) or Jade Rabbit (Permanent)
Gold Thread Power or Black Jade Power
15x Order of the Hero
5x Jade Fragment
Treasure Chest of [Demon Slaying Items]
2x Gold Ingot Revival Pill
Headmaster Order