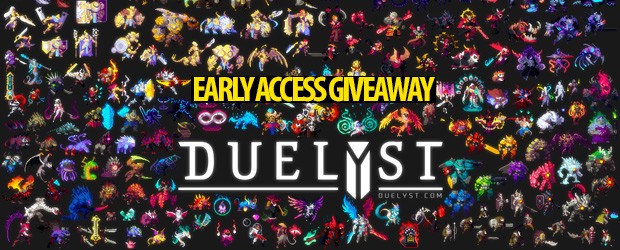 MMOBomb has teamed up with Counterplay Games to giveaway private beta keys for their upcoming game, Duelyst (Google Chrome web browser is required to play the game). To get your code key you just need to click on the button below. Don't miss out!
Your browser does not support iframes. For having access to this giveaway you need to enable them.
Duelyst is a tactical turn-based strategy game with ranked competitive play brought to you by veteran developers and creators from Diablo III, Rogue Legacy, and the Ratchet & Clank series.
How to get and use your Key:
1. Log in to your MMOBomb account to get your key. If you don't have one, register for free HERE.
2. Click on the big yelow button at the top. Copy and paste your key to a safe place as you may not be able to retrieve it once closing your browser.
3. Visit the Duelyst official website HERE. (Google Chrome web browser preferred to play the game).
4. Create an account and input your code.
5. Make sure you never miss a giveaway, follow our updates via Facebook, Twitter!
6. Enjoy the game! Have Fun!
Share if you like this giveaway!
[easy-share buttons="facebook,twitter,google,reddit" counters=1 hide_names="yes" message="yes" counter_pos="inside" native="no" total_counter_pos="rightbig" template="metro"]
Gameplay Video:
Note
Google Chrome web browser preferred to play the game (NOT IE or Firefox)
Getting Started
How to Play: http://forums.duelyst.com/t/how-to-play-updated-may-18/440/1
Wiki: http://duelyst.gamepedia.com/Duelyst_Wiki
Forums: http://forums.duelyst.com
Weekly Updates: https://www.facebook.com/Duelyst
Need Help?
Having problems with your key? Please visit our help center HERE.

[otw_is sidebar=otw-sidebar-1]


[otw_is sidebar=otw-sidebar-2]