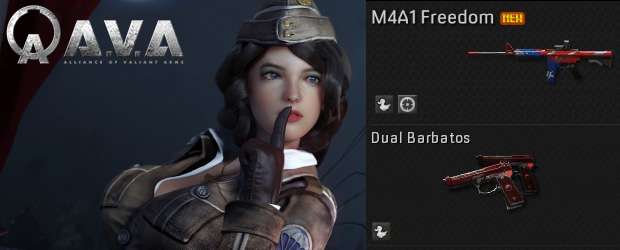 To celebrate the 5th Anniversary of Alliance of Valiant Arms (A.V.A.), MMOBomb and Aeria Games have teamed up to giveaway a gift pack for the popular free-to-play first-person shooter A.V.A.! To get your code key you just need to click on the button below. Get your key now while supplies last!
Your browser does not support iframes. For having access to this giveaway you need to enable them.
How to get and use your Key:
1. Log in to your MMOBomb account to get your key. If you don't have one, register for free HERE.
2. Click on the big yelow button at the top, and copy your key. The key will be temporarily saved for you, so you can go back to this page later and get your key back.
3. Visit the giveaway page HERE.
4. Log in, paste your key into the field and click on Redeem.
5. Make sure you never miss a giveaway, follow our updates via Facebook, Twitter!
6. That's it, enjoy!
Share if you like this giveaway!
[easy-share buttons="facebook,twitter,google,reddit" counters=1 hide_names="yes" message="yes" counter_pos="inside" native="no" total_counter_pos="rightbig" template="metro"]
This code contains the following items:
The Freedom Package:
– M4A1 Freedom (7 days)
– Dual Barbatos (3 days)
– Anastasia (1 day)