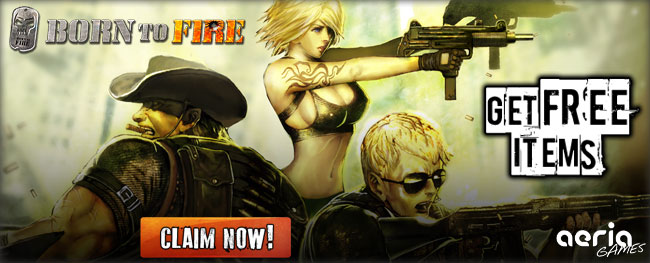 MMOBomb.com and Aeria Games have teamed up to give our users a code key which will grant you free in-game items for Born to Fire. To get your key you just need to click on the button below. Don't miss out on this offer!
Born to Fire is a free to play 3D team-based shooter with colorful characters who never take the battle too seriously. Players have access to five distinct classes, each with unique weaponry and styles of play.
Your browser does not support iframes. For having access to this giveaway you need to enable them.
How to get and use your Key:
1. Log in to your MMOBomb account to get your key. If you don't have one, register for free HERE.
2. Copy and paste your key to a safe place as you may not be able to retrieve it once closing your browser.
3. Head on over here.
4. Enter your key in the empty field and click the Redeem button.
5. Items will be sent directly to your inventory in-game. If you were logged in the game during this process you may need to fully exit the game and log back in to see your items.
6. Make sure you never miss a giveaway, follow our updates via Facebook, Twitter or sign up for our daily newsletter, it´s free!
7. Have Fun
The Key Includes:
This package contains the following items for the following classes:
Point Man: LIFT HELMET, ATAK-WELD, COW MASK, SKULL-MESH, SKULL-FLACK, BODY-CRASH, STEEL-LEG, SIX-WINGS, ANK-BOOTS, RED-SPIKE, M870 MCS, Striker
Ranger: GETSUM-K, RAIL-CAM, SILVER-HORN, BUTTERFLY, NON-FLACK,EAGLE-FLACK, 4MACK, ANGRY-PEQ, WHITE NOSE, YELLOW NAVEL, PMC AK, G36
Dual Gunner: BOBBED HAT, USS-R, DARK-HORN, WHITECROSS, BB-SLING, RABBIT-SLING, JAMMED SACK, DOROTHY SACK, COZY SHOES, CRUMP SHOES, MP7 PDW, VZ 61
Born to Fire Trailer