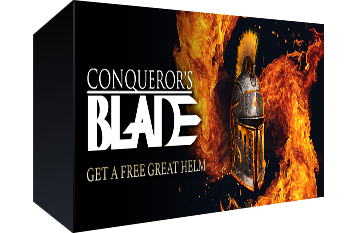 Conqueror's Blade: Crested Great Helm Key Giveaway
FREE
MMOBomb and My.com have partnered up to get our users a free gift Key (NA only) for Conqueror's Blade. Each key unlocks the limited edition item, Crested Great Helm!
To unlock your key instantly you just need to complete all the steps on the top. Get your key now while supplies last!
How to use your Key:
1) Head to the My.com Website
2) Log into your My.com account
3) Open the games menu in the top left hand corner and select Conqueror's Blade
4) Click on your profile link located in the middle of the screen
5) Select " Redeem Promo Code"
6) Enter Promo code and select "Activate The Code"
This key contains the following:
⦁ Crested Great Helm
The crested great helm is a limited edition item that ensures that Warlords takes to the battle ground in a deadly, yet stately style. The equipable medieval helmet provides a distinctive appearance sure to be a welcomed addition to any Warlords inventory.
Note:
1. Each key can be redeem just once and each person cannot redeem more than one of these codes.
2. NA Region only.
About:
Conqueror's Blade is an MMO game set in a huge open medieval world where you can build your own army using different medieval and feudal units, fight for castles and land, engage in massive online siege battles, and achieve victory through cunning tactics and combat skills.
More Giveaways:
Games You May Like