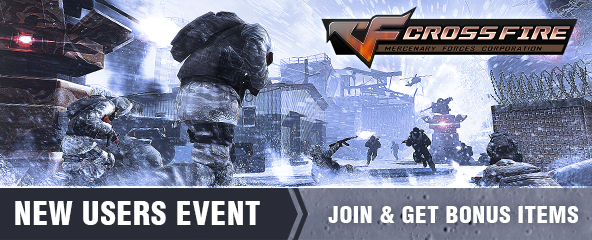 CrossFire New Users Event Giveaway
FREE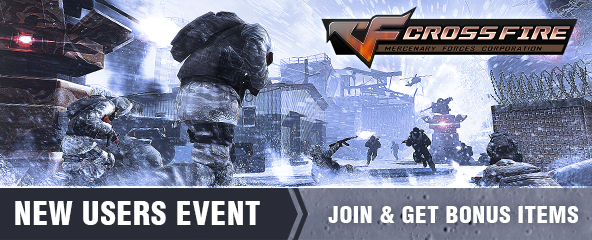 MMOBomb teamed up with Z8games to giveaway free in-game rewards for CrossFire. To get your items you just need to click on the link below. Don't miss out on this offer!
Between NOW and April 2, new recruits will receive significant bonuses to kick-start their enlistment. These include major boosts to EXP, skinned weapons, premium accessories and gear, expanded grenade slots, Extra Missions, and more - even a Cowboy Hat! Returning players will receive additional items with consecutive logins.
How to get and use your Key:
1. Log in to your MMOBomb account to get your key. If you don't have one, register for free HERE.
2. Sign Up for CrossFire Using This LINK (or the "enter here" link) until April 2nd 2014.
3. Download and install the game client.
4. Log into the game and receive your first set of rewards.
5. Continue to consecutively log into the game for the next 15 days to earn additional rewards.
6. Make sure you never miss a giveaway, follow our updates via Facebook and Twitter!
7. That's it, enjoy!
Note::
1. Creating an account and logging into the game for the first time counts towards your consecutive login count.
2. Prizes will be distributed to anyone who makes an account up to April 2nd and successfully completes the above requirements. For example, if you register your account on April 2nd and play for 15 consecutive days, you will still receive all your rewards.
This giveaway contains the following items:
After First Login:
Bulletproof Helmet (3 Days), Bulletproof Vest (3 Days), 50% EXP Boost (3 Days)
After 3 Consecutive Days:
Expanded Grenade Slot (7 Days), Crystal Grenade (7 Days), Cowboy Hat (7 Days)
After 7 Consecutive Days:
Desert Eagle-Tiger (7 Days), Golden Katana (7 Days), 3 x Extra Mission
After 15 Consecutive Days:
9A-91 (7 Days), Rainbow Muzzle Flame (7 Days), Play CrossFire NameTag (7 Days)
CrossFire Wave Mode Trailer:
More Giveaways:
Games You May Like