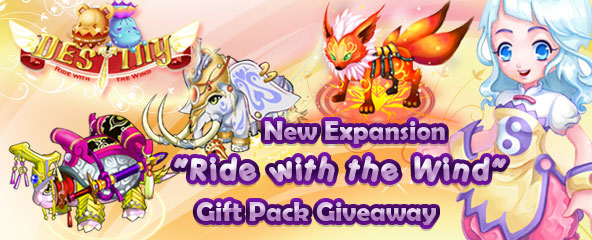 Destiny Online Expansion "Ride with the Wind" Gift Pack Giveaway
FREE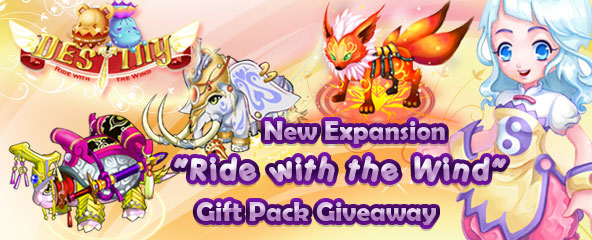 Destiny Online just launched the new expansion pack "Ride with the Wind", featuring cute mounts, mount raising and taming, and mount skill. To celebrate this grand release, we're giving away the Expansion Gift Pack to all MMOBombers. Grab yours before it runs out!
Destiny Online, based on eastern mythology, is a 2D free-to-play fantasy MMORPG featuring mount pet raising, pet farm, mount evolution system, weapon refinement, tribe system, marriage system, master/apprentice system, fun quests and so forth. It is also the first MMO that "Pays U 2 Play", meaning that if you stay in the game continuously for some amount of time, you will earn Gold Points, that can be used to purchase valuable items from the Destiny Item Mall.
How to get and use your Key:
1. Log in to your MMOBomb account to get your key. If you don't have one, register for free HERE. (NOTE: We are updating the site so please login in the Forum instead of the login box in the site.)
2. Copy and paste your key to a safe place as you may not be able to retrieve it once closing your browser.
3. Register a free game account at Destiny Online website.
4. Enter your Gift Key and account info at the activation page.
5. Download and Install the client, open the game and get started!
6. Talk to NPC "Gift Distributor" at the coordinates (176,139) in Carp Village and click on "Claim Kisser Fish(Headgear)" to collect the gift.
7. For new players, you can get a Newbie Package from Village Head (190,148) in Carp Village containing timing mounts and some useful training kits
8. Make sure you never miss a giveaway, sign up for our daily newsletter, it´s free!
After receiving the gift, you can start your adventure in Destiny Online by following the Newcomer Quests at Carp Village. Here are some useful tips for beginner: Leveling guide and Must-know things.
Note: Every game account can only credit one Expansion Gift Pack key and receive one gift pack in the game.
Expansion Gift Pack includes:
1. Kisser Fish Headgear x1
2. Novice Package including random timing mount x3, Clown Cap x1, Random Wings x1 and etc. (For new players only)
More Giveaways:
Games You May Like