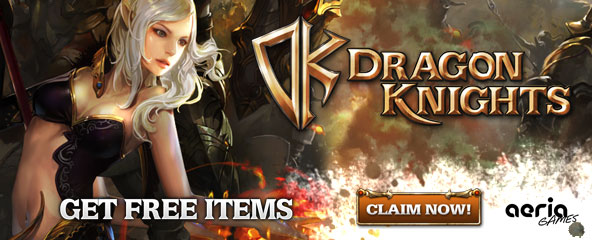 MMOBomb and Aeria Games have teamed up to give our users a free in-game gift pack for DK Online. This gift pack will help to make your journey of adventure as easy as possible! To get your code key you just need to click on the button below.
DK Online is a free to play 3D fantasy MMORPG with huge PvP battles, thrilling dungeons and castle siege warfare.
Your browser does not support iframes. For having access to this giveaway you need to enable them.
How to get and use your Key:
1. Log in to your MMOBomb account to get your key. If you don't have one, register for free HERE.
2. Copy and paste your key to a safe place as you may not be able to retrieve it once closing your browser.
3. Download DK Online Here
4. Login to DK Online and create a character
5. Go here and enter your Gift Code in the box
6. Press B in game and open your "Stash" tab
7. Double click the items to move them to your inventory
8. Make sure you never miss a giveaway, follow our updates via Facebook, Twitter or sign up for our daily newsletter, it´s free!
9. Have Fun
The Key Includes:
This package contains the following items:
10 – Lv.6 Power Stone III
20 – Lucky Rune
20 – Protective Rune
1 – Rune Mystery Box
1 – Rabbit Poppet
1 – Lion Mount
1 – Lv.1 Battle Package
1 – Campfire Package
DK Online First Impressions video: