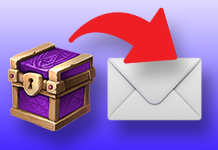 Hi MMOBombers! If you want to continue having great MMOBomb giveaways sent directly to your email like they have been for years, (plus some new surprises coming) you will need to read below and act now!
Starting in July, Google is making changes to FeedBurner that will discontinue the use of email subscriptions. We are currently exploring alternatives and we will migrate to a new and better service, but we may not be able to do so if your email is out of date.
🚩 Here's what you need to do:
You just need to sign up with your email HERE. That´s it!
Sign up using your current email address to ensure you will receive our upcoming giveaways! It is easy and only takes a few seconds! Remember, this new upcoming service ONLY sends you our giveaways so you will not be signing up for any spam emails you do not want… JUST the giveaways you love!
⚠️ PLEASE NOTE: Failure to make this update means you will no longer receive any giveaway information until you sign up! None of us here at MMOBomb want to see you miss a giveaway for your favorite free-to-play game because of this transition on Google's side.
We are also working on some new surprises for you, so stay tuned. We cannot wait to continue to bring you the latest giveaways and we thank you so much for the years of support you have shown MMOBomb.com! See you on the servers!