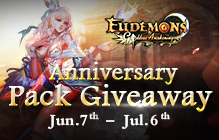 Eudemons Online Anniversary Pack Key Giveaway
FREE
MMOBomb has partnered with Eudemons Online team to bring a special free Anniversary Pack for new players. This pack will grant you several in-game items to help you explore the world of Eudemons!
To unlock your gift key instantly you just need to complete all the steps on the top. Grab your key now and get into the action!
How to use your Key:
1. Sign up for FREE on the Event Page.
2. Download the game and login to create a new character.
3. Come back to the Event Page. Submit your character info and your gift code to claim your gift pack!
4. Login to the game and grab the gift packs from Lorraine (Cronus 223, 633). You can easily open up the "Path Finding" menu, choose "Others in Market" and then click on the "Prize Legate", the auto path system will lead you there, automatically.
This key contains the following:
⦁ Moon Blessing*1
⦁ 19-star Saint XO*1
⦁ 2700 PP
⦁ Super Eud Crystal*1
⦁ God Tear*1
⦁ Violet Stone*2.
Note:
1. Event Duration: Now to Jul. 6th (PST).
2. One gift per new created character.
3. Only for the new players who have successfully registered during the event.
About:
Eudemons Online is a Free-To-Play fantasy MMORPG presented by TQ Digital. In this mythic world, you can choose to be a Warrior, a Mage, a Paladin, a Vampire, or a Necromancer.
More Giveaways:
Games You May Like