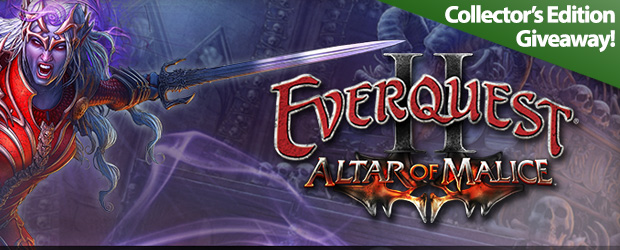 Share to unlock more giveaways!
[easy-share buttons="facebook,twitter,google,reddit" counters=1 hide_names="yes" message="yes" counter_pos="inside" native="no" total_counter_pos="rightbig" template="metro"]
MMOBomb and SOE have teamed up to give our users 20 keys for the EverQuest II Altar of Malice Collector's Edition. These codes grant players the Altar of Malice Collector's Edition ($89.99 each) and the new Aerakyn Player Race (which is a separate purchase normally). That's more than $1800 worth of goods! To join the giveaway follow the four steps below:
How to get a Key:
1. It´s easy, you just need to Register on MMOBomb and submit your email below to get free alerts on upcoming giveaways, we promise not to spam and, of course, you can always "unsubscribe" at any time! If you already follow MMOBomb giveaways via email you can skip step 1 and 2.
2. Check your email and locate the confirmation email. Click on the Confirmation Link in the Email to Complete Your Sign Up.
3. Complete the following sentence: "I enjoy playing EverQuest II because… ". Leave your sentence in the comments below, please make sure you use the email address you signed up for MMOBomb giveaway alerts with. This is really important, if you do it with another email you won't be eligible to receive your prize. Don't forget to confirm your email address.
Rules and Notes
– We'll select the 20 lucky MMOBombers on December, 14 (2014), we'll be picking and notifying the winners via email, so please use a valid e-mail and check your accounts.
– Results may take a few days to be announced after the end of the giveaway.
[divider type=""]
Lucky Winners:
Coming soon on December, 14 (2014)

– Vinhou
– magicrikus
– Elskar
– Today
– dbrackish
– Ossian
– Krwawy Fred
– voyagames
– Minermanz
– Mariano

– ichigoez
– Daedrax
– H8ff0000
– LadyMallyce
– FrostedFlakes
– Sape
– Nik
– DarkGirl
– Davidl6
– Samuel Keke

This giveaway contains the following items:
These codes grant players the Altar of Malice Collector's Edition and the new Aerakyn Player Race. Altar of Malice is the 11th EverQuest II expansion and one of the most robust in recent years. This expansion features several new zones and dungeons, level-cap increase to 100, and must-have in-game items.
Plus the following items:
– Mage Tower Mirage (Teleporter Item)
– Prehistoric House Pet
– 3 Gems of Armor Advancement (Armor Upgrade)
– 80 Days of Spell Research (2 Potions)
– Elite Battle-Mystic Mercenary
– Striped Savage Pterodon Mount
EverQuest II Altar of Malice Trailer: