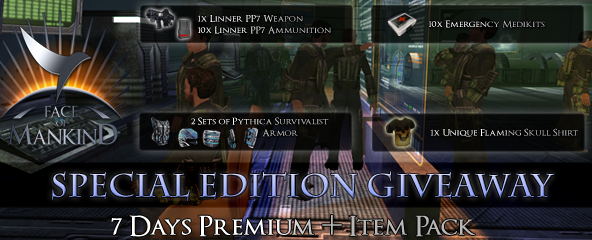 MMOBomb.com and Nexeon Technologies have teamed up to give our users a code key which will grant you a free 7 Days Premium account and free in-game items for Face of Mankind. To get your key you just need to click on the button bellow. Don't miss out on this exclusive offer!
Face of Mankind is a free to play 3D sci-fi MMORPG with realtime combat in a single persistent science-fiction universe.
Your browser does not support iframes. For having access to this giveaway you need to enable them.
How to get and use your Key:
1. Log in to your MMOBomb account to get your key. If you don't have one, register for free HERE.
2. Copy and paste your key to a safe place as you may not be able to retrieve it once closing your browser.
3. Register an account on www.faceofmankind.com
4. Login to the account at https://www.faceofmankind.com/account/login
5. Proceed to start downloading and installing the game while doing the next step
6. You will be directed to the account detail page and in the middle you will see "Product Keys" – just enter in the key and it will be applied to the account.
7. Make sure you never miss a giveaway, sign up for our daily newsletter, it´s free!
8. Have Fun
Item Pack Info:
The Item Pack includes:
– 1x Linner PP7 Weapon
– 10x Linner PP7 Ammunition
– 10X Emergency Medkits
– 2 Sets of Pythica Survivalist Armor
– 1x Unique Flaming Skull Shirt (only available in this pack)