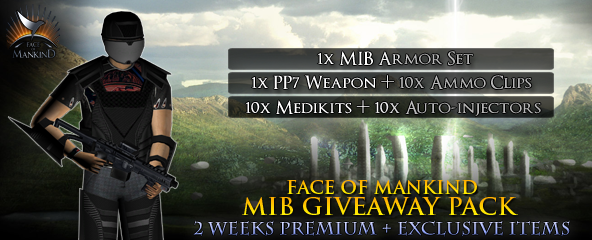 MMOBomb.com and Nexeon Technologies have teamed up to give our users a code key which will grant you free in-game items for Face of Mankind. To get your key you just need to click on the button bellow. Don't miss out on this exclusive offer!
Face of Mankind is a free to play 3D sci-fi MMORPG with realtime combat in a single persistent science-fiction universe. Here, you will control a single character in a world with significant science-fiction influences set in the 24th Century and beyond.
Your browser does not support iframes. For having access to this giveaway you need to enable them.
How to get and use your Key:
1. Log in to your MMOBomb account to get your key. If you don't have one, register for free HERE.
2. Copy and paste your key to a safe place as you may not be able to retrieve it once closing your browser.
3. Vist www.faceofmankind.com
4. The registration box is on the left, register an account
5. You will receive an activation email, activate it by clicking the link
6. Once activated, vist https://www.faceofmankind.com/account/detail and there is a key section
7. Paste in the key and click add
8. Your key has now been applied and your items and game time are available in game!
9. Make sure you never miss a giveaway, follow our updates via Facebook, Twitter or sign up for our daily newsletter, it´s free!
10. Have Fun