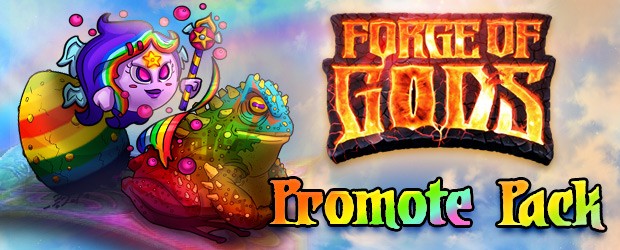 MMOBomb.com and Panoramik are teaming up once again to get our readers a whole pack of in-game items for the free-to-play game Forge of Gods. This time, it's the Promote Pack ($19.99 value) that contains so many items we can't list them here! View the full list down below. To get your code key you just need to click on the button below. Get your key now while supplies last!
Your browser does not support iframes. For having access to this giveaway you need to enable them.
GODS are not born, they are made by YOU! Join the action in this highly addictive multiplayer card strategy RPG "FORGE OF GODS"! Collect and train as many monsters as you can to assemble the greatest team and burst through hordes of enemies in thrilling, addictive and fast-paced game! Conjure powerful dragons, sturdy warriors and exotic beasts to fight for you in the land of Pangea! Are you ready for a battle?
How to get and use your Key:
1. Log in to your MMOBomb forum account to get your key. If you don't have one, register for free HERE.
2. Click on the big yellow button at the top. Copy and paste your key to a safe place as you may not be able to retrieve it once closing your browser.
3. Log into Steam and click on the Games Menu
4. Select Activate a Product on Steam
5. Follow the on screen instructions to enter your key.
6. Make sure you never miss a giveaway, follow our updates via Facebook, Twitter!
7. Enjoy the game! Have Fun!
* Make sure to install the base game first from the Steam Store. You'll get your rewards after tutorial.
Share if you like this giveaway!
[easy-share buttons="facebook,twitter,google,reddit" counters=1 hide_names="yes" message="yes" counter_pos="inside" native="no" total_counter_pos="rightbig" template="metro"]
This code contains the following items:
⦁ Rainbow Slug, Rainbow Toad, Rainbow Egg – rare materials for Evolution of your fighters.
⦁ 20 Demon Shadows. Special monsters for Fusion.
⦁ 30 Princesses Mythica. Special monsters to improve other creatures
⦁ 5,000,000 gold for Fusion, Evolution and Rebirth of your fighters.
Featured Video
Note:
1. Each code can be redeem just once and each person cannot redeem more than one of these codes.
2. Make sure to install the base game first from the Steam Store. You'll get your rewards after tutorial.
Need Help?
Having problems with your key? Please visit our help center HERE.