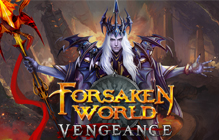 Forsaken World Aladdin Pack Giveaway
FREE

Share if you like this giveaway!
MMOBomb and Perfect World Entertainment have teamed up to host a giveaway for Forsaken World. To get one exclusive key code, you just need to follow the instructions below:
How to get a Code:
1. It´s easy, you just need to Register on MMOBomb and submit your email below to get free alerts on upcoming giveaways, we promise not to spam and, of course, you can always "unsubscribe" at any time! If you already follow MMOBomb giveaways via email you can skip step 1 and 2.
2. Check your email and locate the confirmation email. Click on the Confirmation Link in the Email to Complete Your Sign Up.
3. Complete the following sentence: "I love Forsaken World because… ". Leave your sentence in the comments below, please make sure you use the email address you signed up for MMOBomb with. This is really important, if you do it with another email you won't be eligible to receive your prize.
We'll select the 50 lucky MMOBombers on November 30 (2015), we'll be picking and notifying the winners via email, so please use a valid e-mail and check your accounts.
This code contains the following items:
● 1 Sky Sultan Flying Carpet Mount
● 1 Lantern Spirit Pet
● 1 Full Carnival/Samba Fashion Set
● 1 0 Mercury Statuettes
● 1 Action Scroll: Pose
Video
>
Notes:
This offer expires April 30, 2016.
About:
Forsaken World is a free-to-play MMORPG set in a dark online fantasy world featuring vampires and mythical creatures. Dark forces threaten Eyrda, a world forsaken by the gods and inhabited by seven races: Humans, Elves, Dwarves, Stonemen, the Kindred, Lycan and Demons. Players must unite to restore the land to glory, while exploring an ever-changing world filled with epic dungeons, intense PvP battles and exotic mounts waiting to be tamed.
Need Help?
Having problems with your key? Please visit our help center HERE.
More Giveaways:
Games You May Like