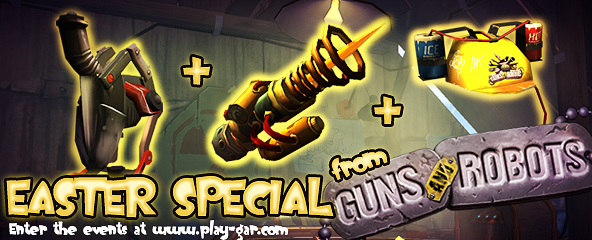 Guns and Robots brings robot action with massive customization. Players get cartoony bright 3D graphics in attractive environments and challenge each other in open arenas. Guns and Robots gives players a fun, entertaining experience with easy to master gameplay and numerous options to experiment constructing their perfect robot.
Your browser does not support iframes. For having access to this giveaway you need to enable them.
How to get and use your Key:
1. Log in to your MMOBomb account to get your key. If you don't have one, register for free HERE.
2. Log in to your Guns and Robots' account.
3. Register your key here.
4. Make sure you never miss a giveaway, follow our updates via Facebook and Twitter!
5. That's it, enjoy!
This Key contains the following items:
• Death Ray Weapon Lizgar and Fanhelmet
• Lizgar
• Fanhelmet
Guns and Robots Easter Event Teaser