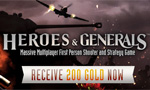 Heroes & Generals Free Gold Giveaway
FREE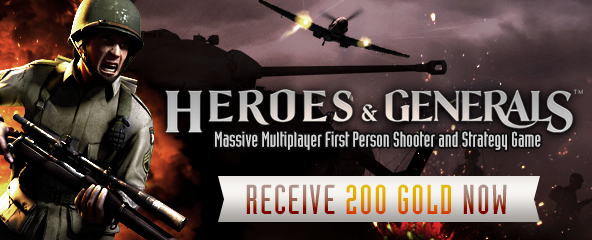 MMOBomb.com, Square Enix and Reto-Moto have teamed up to give our users a code key which will grant you free in-game currency (free 200 Gold) for Heroes & Generals. Attention this giveaway only works for new players. To get your key you just need to click on the button below. Don't miss out on this exclusive offer!
Heroes & Generals is a free to play 3D Online FPS with a Strategic Multiplayer Campaign, set in the midst of World War II Europe, where Axis and Allies fight for control.
How to get and use your Key:
1. Log in to your MMOBomb account to get your key. If you don't have one, register for free HERE.
2. Copy and paste your key to a safe place as you may not be able to retrieve it once closing your browser.
3. Go to http://www.heroesandgenerals.com
4. Click on the "Play for Free" button, register your account and enter your promotional code.
5. Click on the link, to get started.
6. Log in and have fun!
7. Make sure to follow Heroes & Generals on Facebook, Twitter and YouTube for the latest updates!
The Key Includes:
A coupon to obtain 200 gold (premium currency), which would allow users to purchase vehicles, weapons, and more. Attention this giveaway only works for new players.
Heroes & Generals gameplay video:
More Giveaways:
Games You May Like