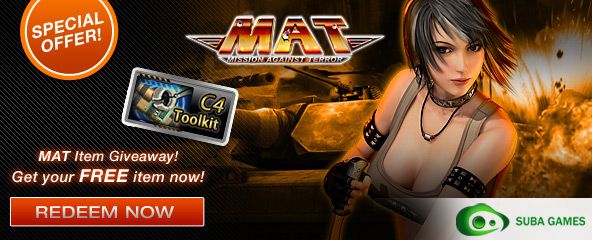 MMOBomb.com and Suba Games have teamed up to give our users a code key which will grant a free in-game item for Mission Against Terror (MAT)! To get your code key you just need to click on the button below.
Mission Against Terror (MAT) is a free MMOFPS set in a not so distant future and in a fictional setting, pitting two teams against each other all over the world.
Your browser does not support iframes. For having access to this giveaway you need to enable them.
How to get and use your Key:
1. Log in to your MMOBomb account to get your key. If you don't have one, register for free HERE.
2. Copy and paste your key to a safe place as you may not be able to retrieve it once closing your browser.
3. Go to mat.subagames.com
4. Register an account by clicking on "registration"
5. Once you're registered and logged in, click on "services" on the website menu
6. Click on "key manager"
7. Enter your promotional key into the "add key" field
8. Move your cursor to the URL field and once it's there, press ENTER
9. Click on the green checkmark to accept your gift
10. Make sure you never miss a giveaway, follow our updates via Facebook or Twitter!
11. Have Fun
Mission Against Terror Trailer: