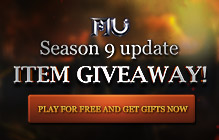 MU Online Season 9 Gift Key Giveaway
FREE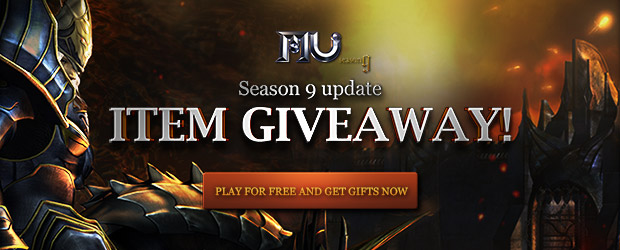 To celebrate the latest update of MU Online, Season 9, MMOBomb and Webzen have teamed up to giveaway a gift pack for the MMORPG MU Online! To get your code key you just need to click on the button below. Get your key now while supplies last!
How to get and use your Key:
1. Log in to your MMOBomb account to get your key. If you don't have one, register for free HERE.
2. Click on the big yelow button at the top, and copy your key. The key will be temporarily saved for you, so you can go back to this page later and get your key back.
3. To create a new account visit this page HERE Please skip this step if you are already a returned MU player.
4. Visit the giveaway event page HERE and input your item code. Click "Enter" and get free in-game items!
5. Make sure you never miss a giveaway, follow our updates via Facebook, Twitter!
6. That's it, enjoy!
This code contains the following items:
- For Returning Players
Who haven't logged in to MU Online since October 20, 2014 (UTC)
4th Generation MUUN
2nd Lucky Armor Set
Rage Fighter Character Card
Summoner Character Card
Excellent Scroll Package (15days)
Gold Channel Ticket [15 Days]
AG Boost Aura[15 Days]
SD Boost Aura[15 Days]
Seal of Healing [15 days]
Master Seal of Wealth[15 days]
Skeleton Pet [15 days]
Bless of Light X 5
- For New Players
Who started playing MU Online since November 10, 2014 (UTC)
4th Generation MUUN
1st Lucky Armor set
Rage Fighter Character Card
Summoner Character Card
Excellent Scroll Package [15 days]
Gold Channel Ticket [15 Days]
AG Boost Aura[15 Days]
SD Boost Aura[15 Days]
Seal of Healing [15 days]
Seal of Wealth [15 days]
Panda Pet [15 Days]
Robot Knight Transformation Ring [15 days]
Sapphire Necklace 15 Days
Sapphire Ring 15 Days
Divine Wing 15 days
Bless of Light X 5
Note:
Giveaway period: November 11, 2014 until November 25, 2014 (UTC)
More Giveaways:
Games You May Like