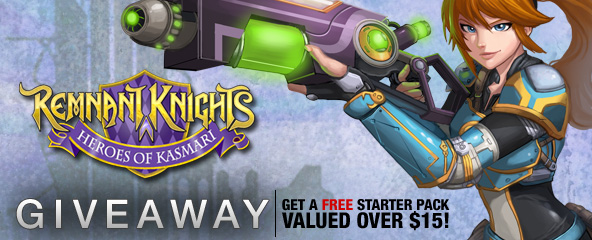 MMOBomb.com and GameSamba have teamed up to give our users a code key which will grant you free in-game items (Valued over $15) for Remnant Knights: Heroes of Kasmari. To get your key you just need to click on the button bellow. Don't miss out on this offer!
Remnant Knights is a free-to-play 3D anime-styled MMORPG that takes place in a world called Kasmari. There are many unique areas to explore in the world, each with its own style and crazy monsters to hunt.
Your browser does not support iframes. For having access to this giveaway you need to enable them.
How to get and use your Key:
1. Log in to your MMOBomb account to get your key. If you don't have one, register for free HERE.
2. Copy and paste your key to a safe place as you may not be able to retrieve it once closing your browser.
3. Log into the game and open the Samba Shop by clicking the coin icon in the lower right corner of the main screen. You can read up more about the shop here.
4. Once the shop opens up, click the "Redeem Code" button at the lower right corner of the screen.
5. On the next screen, enter your code in the white box and then click "Confirm". A message will tell you if the code worked or not.
6. Make sure you never miss a giveaway, follow our updates via Facebook, Twitter or sign up for our daily newsletter, it´s free!
7. Have Fun
The Starter Pack Includes:
• HP/MP Potion (10) of each
• EXP 50% Necklace (24 Hours)
• (3) Revival Marble
• 30 Day Mount (Air Jet)
• 30 Day Costume Set (Casual Outfit Set)
Total Value: 2500 Sambas (Valued over $15!)
Remnant Knights Trailer