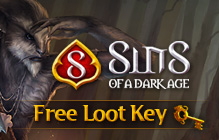 Sins of a Dark Age Free Loot Giveaway
FREE

MMOBomb has partnered with Ironclad Games to bring our members a special gift bundle, the key will unlock lots of useful items for Sins of a Dark Age. To get your code key you just need to click on the button below. Get your key now while supplies last!
Sins of a Dark Age' is free to play MOBA with a dark fantasy theme and RPG features including quests.
How to get and use your Key:
Please read and follow the instructions bellow:
1. Log in to your MMOBomb account to get your key. If you don't have one, register for free HERE.
2. Click on the big yelow button at the top. Copy and paste your key to a safe place as you may not be able to retrieve it once closing your browser.
3. Load the game and game click on the 'Shop' button in the green area at the top.
4. Click on the Redeem button at the bottom of the list on the left.
5. Type in the Key code in the 'enter key' form and click the Redeem button.
6. Visit Profile > Inventory to find your loot.
7. Click unpack to see what's inside!
8. Make sure you never miss a giveaway, follow our updates via Facebook, Twitter!
9. Enjoy the game! Have Fun!
This code contains the following items:
● Contains 1 of 3 MMOBomb sub-bundles which each contain a skin, a gear, a skin recipe, and some crafting materials for that skin recipe
Note:
1. Each account can only claim 1 code.
2. Each code can only be used once.
Trailer:
Need Help?
Having problems with your key? Please visit our help center HERE.
More Giveaways:
Games You May Like