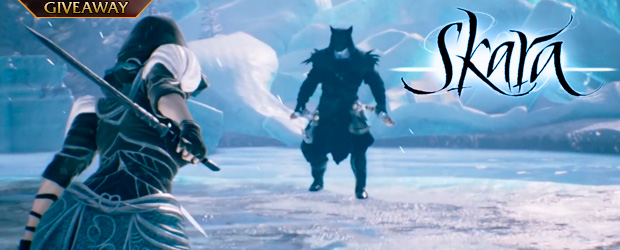 MMOBomb.com and 8-Bit Studio have teamed up to score YOU Steam Closed Beta Access to Skara – the Blade Remains, a team-based PvP game made independently with Unreal 4. To get your code key you just need to click on the button below. Get your key now while supplies last!
Your browser does not support iframes. For having access to this giveaway you need to enable them.
Skara – The Blade Remains is a team-based PvP where players struggle to dominate a medieval world on the verge of collapse. Sharp skills and strategic action are required to stay alive in this game, made independently with Unreal 4. This is an unfinished prototype, still in development with community input.
How to get and use your Key:
1. Log in to your MMOBomb account to get your key. If you don't have one, register for free HERE.
2. Click on the big yellow button at the top. Copy and paste your key to a safe place as you may not be able to retrieve it once closing your browser.
3. Login to your Steam Account.
4. Click Add A Game, enter your key and submit
5. Follow the on screen instructions to get started.
6. Make sure you never miss a giveaway, follow our updates via Facebook, Twitter!
7. Enjoy the game! Have Fun!
Share if you like this giveaway!
[easy-share buttons="facebook,twitter,google,reddit" counters=1 hide_names="yes" message="yes" counter_pos="inside" native="no" total_counter_pos="rightbig" template="metro"]
This code contains the following items:
⦁ Closed Beta Access
Featured Video
Note:
1. Each code can be redeem just once and each person cannot redeem more than one of these codes.
2. WARNING: This is an unfinished prototype, still in development with community input.
Need Help?
Having problems with your key? Please visit our help center HERE.