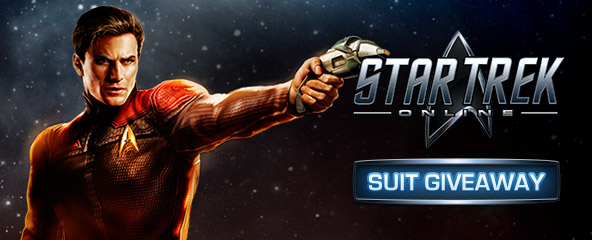 MMOBomb and Perfect World Entertainment have teamed up to give our users a free in-game item for Star Trek Online. Get one of the four different Star Trek Online costumes that reference various generations in the show's history. To get your code key you just need to click on the button below.
Star Trek Online is a free to play 3D sci-fi MMORPG based off the popular Star Trek Franchise. Fans of the original series will enjoy strolling through the Enterprise, participating in PvE ground combat, and waging war in PvP tactical ship battles.
Your browser does not support iframes. For having access to this giveaway you need to enable them.
How to get and use your Key:
1. Log in to your MMOBomb account to get your key. If you don't have one, register for free HERE.
2. Copy and paste your key to a safe place as you may not be able to retrieve it once closing your browser.
3. Visit StarTrekOnline.com/Splash
4. Create a free account. Already have one? Please log in.
5. Once logged in, click the "My Account" link at the top of the Star Trek Online homepage.
6. Once in your "My Account" portal, click the "Redeem Key" link.
7. Enter the key in the field and click 'Submit'.
8. If you have not done so already, download the game at StarTrekOnline.com/Download, install and log in.
9. You can claim your promotional items through the in-game C-Store, under the 'Appearance' tab.
10. Make sure you never miss a giveaway, follow our updates via Facebook, Twitter or sign up for our daily newsletter, it´s free!
11. Have Fun
The Key Includes:
This key contains 1 of 4 uniforms:

Star Trek Online First Impressions video: