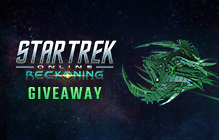 Star Trek Online Tal Shiar Adapted Battlecruiser Giveaway (XBox One Version)
FREE
To celebrate the console launch of Star Trek Online: Season 12 - Reckoning, MMOBomb.com is teaming up with Perfect World Entertainment and Cryptic Studios to give 5 lucky winners a T6 Tal Shiar Adapted Battlecruiser for Star Trek Online on Xbox One.
How to get a Code:
1. It´s easy, you just need to Register on MMOBomb and submit your email below to get free alerts on upcoming giveaways, we promise not to spam and, of course, you can always "unsubscribe" at any time! If you already follow MMOBomb giveaways via email you can skip step 1 and 2.
2. Check your email and locate the confirmation email. Click on the Confirmation Link in the Email to Complete Your Sign Up.
3. We'll select the 5 lucky MMOBombers on March 1, we'll be picking and notifying the winners via email, so please use a valid e-mail and check your accounts.
This code contains the following items:
• 1 Tal Shiar Adapted Battlecruiser [T6]
Notes:
1. Codes are limited to one use per account.
2. Codes are XBox One Specific
About:
Star Trek Online (STO) is a free to play 3D Sci-Fi MMORPG based on the popular Star Trek series. In this massively multiplayer online game from Cryptic Studios, players can pioneer their own destiny as Captain of a Federation starship or they can become a Klingon Warlord and expand the Empire to the far reaches of the galaxy. Journey to strange new worlds, create brand new missions and take part in epic ground and space missions.
More Giveaways:
Games You May Like