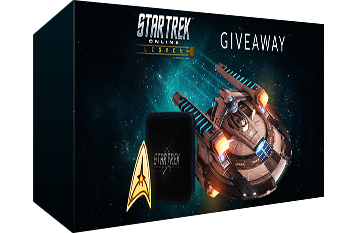 Star Trek Online's 10th Anniversary Giveaway & Prizes
FREE
Federation Elite Key Giveaway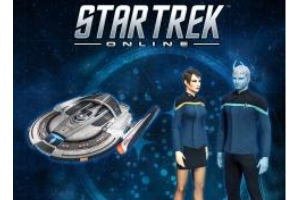 Grab Key
Special Prizes Contest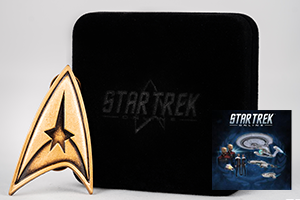 Enter Here
To celebrate Star Trek Online's 10th anniversary and the launch of the new update, MMOBomb and Perfect World Entertainment have partnered up to get our users lots of in-game items and cool prizes. Score a Federation Elite Starter Pack key or enter the contest to win 1 of 50 T6 Europa-Class Heavy Battlecruiser codes, or even 1 of 3 REAL Limited Edition STO Anniversary Badges plus more (prizes list below)!
If you enter in our contest (until February 20) please use a valid e-mail so we can contact you and check your email accounts. Please note we will need to request your physical address if you are one the 3 Grand Prize winners.
How to use your Key:
1. Complete all steps to unlock your key.
2. Learn how to claim your code by visiting this link.
This Giveaway contains the following:
- Federation Elite Starter Pack Key Giveaway:
This starter pack will help any Federation Captain begin their adventure in Star Trek Online! * Available to Federation Captains only. Please note that if you've redeemed this pack in the past, you will not be able to claim it again.
Content Includes:
⦁ T6 Reliant Class - Advanced Light Cruiser (Scales as you level!)
⦁ 12 Inventory Slots
⦁ 12 Bank Slots
⦁ 2 Bridge Officer Slots
⦁ 1 Borg Bridge Officer
⦁ 13 Mark II Very Rare Space Gear
⦁ 7 Mark II Very Rare Ground Gear
⦁ Starfleet Academy Uniform
- Star Trek Online's 10th Contest Prizes:
If you enter the contest you can win one of the following prizes.
1. Federation Fleet Admiral Faction
This bundle is comprised of 3 different styles of Starships as listed below along with faction related items to begin your adventure as a future Federation Fleet Admiral! *Available for Federation Captains only.
Content includes:
⦁ T6 Valiant (Escort Vessel)
⦁ T6 Andromeda (Cruiser Vessel)
⦁ T6 Pathfinder (Science Vessel)
⦁ 2 Ship Slots
⦁ 1 Caitian Bridge Officer
⦁ Racing Uniform
⦁ 1 Exocomp Pet
⦁ Title: Voyager
⦁ Title: Seeker
⦁ Title: Pathfinder
2. T6 Europa-Class Heavy Battlecruiser
The Europa-class Heavy Battlecruiser is well-suited to the frontiers of the Federation, whether the mission is one of exploration or defense efforts. It is named after the U.S.S. Europa – a Nimitz-class vessel lost at the infamous "Battle at the Binary Stars" under the command of Admiral Brett Anderson in 2256. This modern 25th-century counterpart to that ill-fated flagship of yesteryear has been fully outfitted with the latest in team support capabilities, and a substantial array of versatile armaments.
*Available for Federation- aligned Captains only. Upon redeeming the code, the starship will be automatically placed in an active ship slot and cannot be claimed if one is not available
3. Real STO Anniversary Badges
STO Anniversary Badges which mirror the ones available in-game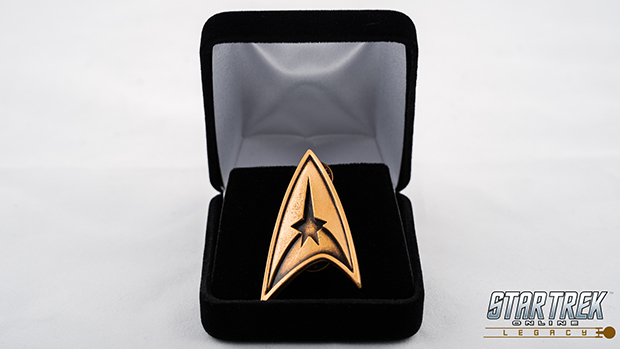 Note:
1. Each code can be redeem just once and each person cannot redeem more than one of these codes.
2. Please note that these codes are only redeemable on the PC version of Star Trek Online and expire on December 31, 2021.
About:
Star Trek Online: Legacy is now live on PC (and launches on PlayStation 4 and Xbox One March 3). The game's newest update pays loving tribute to all the different Star Trek series featured in the game over the last decade. Captains will face off against iconic enemies from some of the game's most popular content updates, while teaming up with some of Starfleet's finest, who represent the epitome of good. This includes former Borg drone and U.S.S. Voyager crew member, Seven (voiced by Jeri Ryan), from the brand new Star Trek: Picard series and Starfleet's brilliant commander, Michael Burnham (voiced by Sonequa Martin-Green), from the popular Star Trek: Discovery series. Star Trek Online: Legacy also introduces a brand new space TFO and special anniversary events that allow players to earn the all new Khitomer Alliance Battlecruiser.
More Giveaways:
Games You May Like