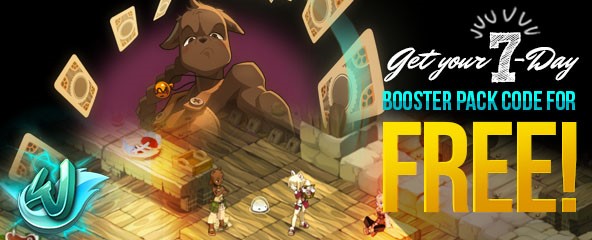 MMOBomb and Ankama have teamed up to giveaway special booster packs for the turn-based MMO Wakfu! To get your code key you just need to click on the button below. Get your key now while supplies last!
Your browser does not support iframes. For having access to this giveaway you need to enable them.
Wakfu is a free to play 2D anime-style MMORPG with unique features like a ecosystem, citizenship and much more featuring tactical turn-based combat, vast character customization, and a deep player influenced world.
How to get and use your Key:
Attention, the Booster Pack codes are only valid for the North American server.
1. Log in to your MMOBomb account to get your key. If you don't have one, register for free HERE.
2. Copy and paste your key to a safe place as you may not be able to retrieve it once you close your browser.
3. Create an account for Wakfu here.
4. Login and click here to enter your code.
5. Enter the key and click 'Confirm'.
6. Make sure you never miss a giveaway, follow our updates via Facebook, Twitter!
7. That's it, enjoy!
This Key contains the following items:
Earn 15% more EXP points in combat and quests
Get 5% more chance to drop items at the end of combats
Earn 15% more Kamas at the end of the combat
Secondary characters will receive an EXP bonus according to your main character level
Fill your health with one click (using Bread)
Vote for governor's elections
Wakfu Trailer:
Note:
Booster Pack codes are only valid for the North American server.