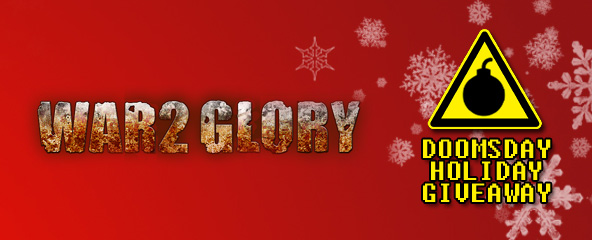 MMOBomb.com and WAR2 Glory have teamed up to give our users a code key which will grant free in-game items for WAR2 Glory! To get your code key you just need to click on the button bellow.
Your browser does not support iframes. For having access to this giveaway you need to enable them.
How to get and use your Key:
1. Log in to your MMOBomb account to get your key. If you don't have one, register for free HERE.
2. Copy and paste your key to a safe place as you may not be able to retrieve it once closing your browser.
3. Register or login at www.war2glory.com
4. Inside the game click on "Military Item Shop" in the menu at the bottom of the screen.
5. Click on Redeem, type or copy your code into the input field and click on "verify code".
6. Your account we now be credited with your free items pack. Good luck!
7. Make sure you never miss a giveaway, follow our updates via Facebook or Twitter!
8. Have Fun
The Key Includes:
Each code gets you the following awesome speed-ups:
3x Machinist: speeds up the time taken to build a building of your choice.
3x Science Journal: shorten research time of technology.
3x Porter: shortens the construction time of a building of your choice.
1x Mass Mobilization: unlocks the ability to build up to 5 buildings instead of 3 at any one time for 3 days.
1x Semi-mechanization: all buildings up to Level 5 require 30% less resources for 24hrs.
5x War Resource Box: Each box contains all kinds of Resources and Gold.