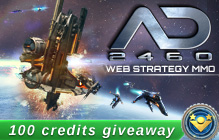 AD2460 Credit Giveaway
FREE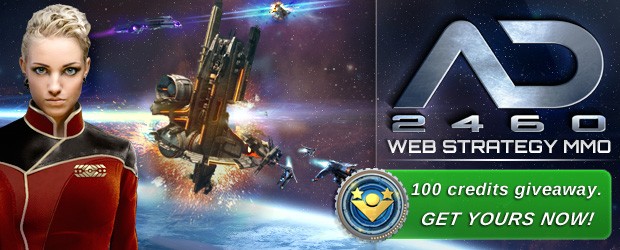 Share if you like this giveaway!
Need some free credits in AD2460? MMOBomb.com and Fifth Season have teamed up to get YOU $10 worth of in-game credits for free. Just follow the instructions below to enter for your chance at winning!
How to get a Code:
1. It´s easy, you just need to Register on MMOBomb and submit your email below to get free alerts on upcoming giveaways, we promise not to spam and, of course, you can always "unsubscribe" at any time! If you already follow MMOBomb giveaways via email you can skip step 1 and 2.
2. Check your email and locate the confirmation email. Click on the Confirmation Link in the Email to Complete Your Sign Up.
3. Complete the following sentence: "I need some credit love because..... ". Leave your sentence in the comments below, please make sure you use the email address you signed up for MMOBomb with. This is really important, if you do it with another email you won't be eligible to receive your prize.
We'll select the 22 lucky MMOBombers on June 24th 2016, we'll be picking and notifying the winners via email, so please use a valid e-mail and check your accounts.
Share if you like this giveaway!
This code contains the following items:
• 100 Credits
Notes:
1. Codes are limited to one use per account.
About:
AD2460 is a free-to-play science fiction real-time strategy MMO played directly in the browser, be it on your PC, tablet or mobile. Players work to develop their homeworlds, join together in alliances with other players and fight over the resources needed for their development. Some of our main features are: visual combats, lots of solo-player content and substantial alliance features. The universe is persistent, and like any other great MMO, we will keep developing it and adding content continually. The credits can be used on facials, uniforms, bounties among other things - but there is no pay-to-win. Victories can't be bought in AD2460.
More Giveaways:
Games You May Like