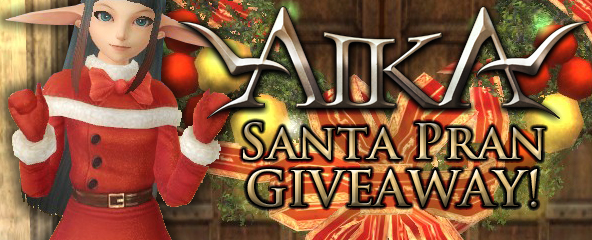 Aika Online Santa Pran Giveaway
FREE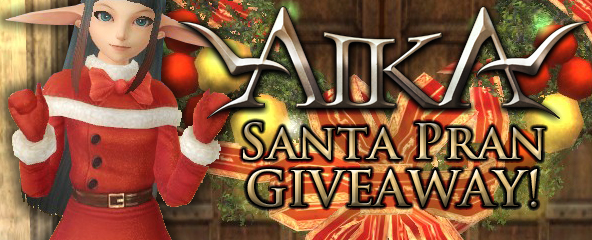 Aika and MMOBomb have the perfect gift for your Pran this holiday season! Give your sassy companion an adorable Santa dress and cap, the perfect outfit for battling against the mysterious snowmen running rampant in Lakia. You'll only be able to find this costume through this giveaway though, so get your code key today!
Aika Online is an epic fantasy MMORPG developed by JoyImpact, creators of Neo Steam: The Shattered Continent. Five nations vie against one another for control of Arcan in massive castle sieges, relic thefts, and customized battlegrounds, waging war on a scale never before seen in an MMORPG.
How to get and use your Key:
1. Log in to your MMOBomb account to get your key. If you don't have one, register for free HERE.
2. Copy and paste your key to a safe place as you may not be able to retrieve it once closing your browser.
3. Create a gPotato account and login.
4. Visit https://billing.gpotato.com/Fillup/FillupFrm.asp
5. Under Others, select gPotato coupon.
6. Input your coupon code and click "Fill-Up Now".
7. Login to Aika to receive your item pack.
8. Make sure you never miss a giveaway, sign up for our daily newsletter, it´s free!
9. Have fun!
Giveaway Items:
• 1 Santa's Cap [Child]
• 1 Santa's One-Piece Dress [Child]
• 1 Santa's Cap [Teen]
• 1 Santa's One-Piece Dress [Teen]
• 10 Portal Scrolls
*Limit one per account, Non-Tradable
More Giveaways:
Games You May Like