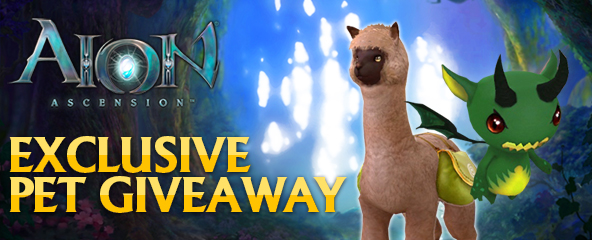 Aion: Ascension Exclusive Pet Giveaway (US Only)
FREE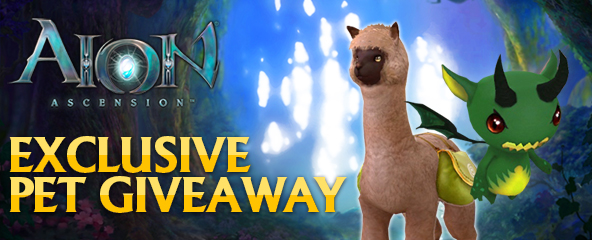 MMOBomb.com and NCsoft have teamed up to give our users a code key which will grant you a free exclusive Pet for Aion: Ascension (North American Aion servers). We have two unique pets to give out (Green Diabol or Golden Radama). To get your key you just need to click on the button bellow. Don't miss out on this exclusive offer!
Aion: Ascension delivers the one-two punch of proven Truly Free unrestricted game access and the lavish story content and features of the highly anticipated Aion 3.0 update. Aion 3.0 provides the fun and surprising new features that both Daevas taking wing for the first time and grizzled veterans will enjoy.
Final Update:
We sincerely apologize to all members that couldn't get the key for the Golden Radama pet that they wanted so badly, we truly understand how you feel. Sadly we only got 5000 Golden Radama keys from NCsoft, so it was predictable that many MMOBomb members wouldn't get a key before they ran out. With the best of intentions we scheduled the day and hour of the giveaway and that clearly was a terrible idea, one that we won't repeat. All the new members registering simultaneously in MMOBomb and trying to get their key plus the high number of users that were already online resulted in a delay on our server, making the site very slow and inaccessible to many users.
Sadly we can't promise more Golden Radama keys (since it really depends on NCsoft) but what we can promise you is that we'll have more and better giveaways really soon. We are constantly upgrading our server and resources and so we hope that we're geared up for future situations of super crazy huge traffic. Thank you all for your comprehension.
How to get and use your Key:
1. Log in to your MMOBomb account to get your key. If you don't have one, register for free HERE.
2. Copy and paste your key to a safe place as you may not be able to retrieve it once closing your browser.
3. Get instructions on how to redeem your key, just go to this page: https://help.ncsoft.com/app/answers/detail/a_id/6095/~/using-a-serial-code
4. Make sure you never miss a giveaway, sign up for our daily newsletter, it´s free!
5. Enjoy your free content.
NOTE: These gift keys will only work on the North American Aion servers.
Aion: Ascension Trailer:
More Giveaways:
Games You May Like