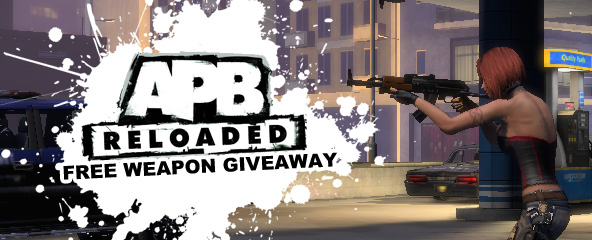 APB Reloaded Free Weapon Giveaway (More Keys!!!)
FREE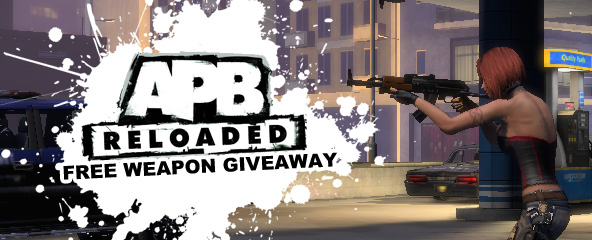 MMOBomb.com and Gamersfirst have teamed up to give our users a key which will grant you a exclusive free high-end weapon for APB Reloaded. It's a 7-day rental of a high powered assault rifle and would give new players a nice boost. To get your key you just need to click on the button bellow. Don't miss out on this exclusive offer!
In APB Reloaded you take on the role of a Criminal – hell-bent on causing havoc and making money, or an Enforcer – tapped by the city to keep order. The city never sleeps and the fight never ends in this free to play fast paced Massively Multiplayer Action Shooter! For more information visit www.gamersfirst.com/apb/
How to get and use your Key:
1. Log in to your MMOBomb account to get your key. If you don't have one, register for free HERE.
2. Copy and paste your key to a safe place as you may not be able to retrieve it once closing your browser.
3. Once in game bring up the "ESC" Menu and select "Armas Marketplace."
4. At the top left of the Armas Marketplace you'll find a link called "Redeem Code." Click the link and enter your CODE (example: XXXX-XXXX-XXXX-XXXX)
5. Complete the process by clicking "Redeem Now." You'll find your items in your character's mail (mail consoles can be found through-out the city).
6. Make sure you never miss a giveaway, sign up for our daily newsletter, it´s free!
7. Enjoy your bonus content.
Weapon Description
With high stopping power and long effective range, the N-TEC has become a favorite of many factions within San Paro and is a bestseller in the Armas Marketplace. Those who favor it know its one requirement: fire in short bursts to maintain accuracy.
Stats:
· Health Damage: Mid
· Stamina Damage: Low
· Hard Damage: Low
· Effective Range: Mid
· Rate of Fire: Mid
· Reload Speed: Mid
· Mobility: Max
· Clip Size: 32
· Ammo Capacity: 128
· Modification:
This N-TEC 5 Dvah version has slots for up to three custom Modifications.
Trailer
More Giveaways:
Games You May Like