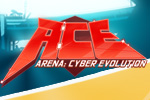 Arena: Cyber Evolution Character Bundle Pack Giveaway
FREE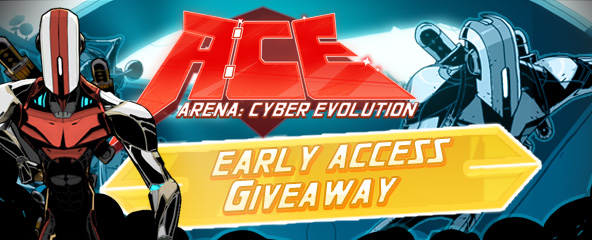 MMOBomb and Spearhead Games have teamed up to give players 50 bundle packs to get off to a great start in Arena: Cyber Evolution. Each code will automatically grant players two characters; Stalker and the Nitrogen Queen, along with a collection of Spearhead points, XP boosts, and premium missions. In order to be eligible for a potential code, you just need to follow the instructions below!
0 BUNDLE PACKS LEFT!
ACE (short for Arena: Cyber Evolution) is the world's first Multiplayer Online Sport Arena, a physics-based game where super-powered champions vie for power in a 3v3 soccer-inspired battle of wits and twitch reflexes. It's also the first ever communally developed game: Spearhead has streamed their design meetings on Twitch since day one, and the team has constantly sought and integrated feedback from their community into the game.
Instructions:
1. It´s easy, you just need to Register on MMOBomb and if you like this giveaway follow us on social networks like Facebook, Youtube or Twitter (if you don´t use any social network, it's ok).
2. Complete the following sentence: "Arena: Cyber Evolution is interesting to me because... ". Leave your response in the comments below, please make sure you use the email address you signed up for MMOBomb with. This is really important, if you do it with another email you won't be eligible to receive your prize.
We'll select the 50 lucky MMOBombers randomly on Monday, September 1st (2014), we'll be picking and notifying the winners via email, so please use a valid e-mail and check your accounts.
The Bundle Pack Includes:
- Stalker, the cyber ninja (character)
- The Nitrogen Queeen (character)
- Spearhead points: 2500
- XP booster (60 wins)
- Premium mission (25)
Lucky Winners:
Uvi
Boody
JM
Hantzie
MyNameIsMiro
frostank
Hildeblue
Denuare
Mizorath
Sukinato
DarkNight
vixion
DeathMenace
wildwolf150
trofiz
Link Doubletrois
lol1211211
Forgott3n
weakcz
WANTEEED
Allie
Joleil
Andrew
Joe
Zorkoth
David-D96
Combatwalrus96
Quadrosin
tachyonaeon
dairon
lobolee
Cirya
FCQ
Nugal
TheOddOrange
Jelly
n0mydna
SileQ
Ruan
wildwolf150
Chiccaboom
Refaser
Black Phoenix
Albert
Vampireknigh
SyluntNite
Todoran
Chisom
KrisszKhaos
Note:
Codes may not arrive for 2-3 days after winners are announced.
Trailer:
More Giveaways:
Games You May Like