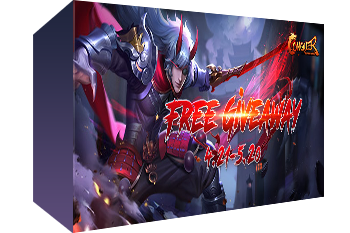 Conquer Online Inspired Ninjas Gift Pack Key Giveaway
FREE
To celebrate the launch of the latest Class, MMOBomb and Conquer Online team have partnered up to get our users a free gift Key full of in-game items for Conquer Online. Each gift pack includes EXP Balls, Mount Armors, Garments and many other items.
To unlock your key instantly you just need to complete all the steps on the top. Get your key now while supplies last!
How to use your Key:
1. Complete all steps to unlock your key.
2. Sign up for FREE on the Event Page.
3. Download the game and login to create a new character. Click START TO PLAY CO on the event page to download client.
4. Come back to the Event Page. Submit your character info and your gift code to claim your gift packs!
5. Login to the game and claim your prizes from your in-game mailbox by clicking on the mailbox button on the top right corner of the game screen.
This key contains the following:
Thunderstriker Novice Pack:
⦁ EXP Ball (B) x 10
⦁ EXP Potion (B) x 5
⦁ Praying Stone (M) (B) x 2
⦁ +2 Stone (B) x 1
⦁ +3 Steed (B) x 1
⦁ Choose one mount armor from Red Deer, Furious Tiger and Bronze Rhinoceros.
⦁ Choose one garment from Dark Wizard, Samurai Legacy and Classic Fashion.
Note:
1. Each code can be redeem just once and each person cannot redeem more than one of these codes.
2. This event will end on May 21.
3. Only for the new players who have successfully registered during the event.
About:
Following Trojan, Ninja, another classic class in Conquer Online, is about to awaken! On Apr. 21st , Ninja will have a thorough change and bring you a brand-new experience!
More Giveaways:
Games You May Like