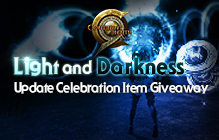 Continent of the Ninth Seal (C9) Light and Darkness Gift Key Giveaway
FREE
To celebrate the launch of the Light and Darkness update, MMOBomb.com, Webzen are teaming up to get our readers a whole pack of in-game items for the free-to-play MMORPG Continent of the Ninth Seal (C9).
This time, it's the Light and Darkness Gift Key that contains so many items we can't list them here! View the full list down below.
Get your key now while supplies last!
How to get and use your Key:
1. Go to http://www.webzen.com/Coupon
2. Log in with your account
3. Select your server and character, and enter the Coupon Code (without hyphens)
4. Click "redeem"
If you are new to WEBZEN, please see the following;
1. Create a webzen.com account.
2. Go to http://c9.webzen.com/ to download the game client and install CONTINENT OF THE NINTH SEAL.
3. Choose a server.
4. Create a new character.
* For a new account: you'll get your rewards after tutorial and 2 PVP fights. If you're not a new player please check that DLC is installed and restart the game.
This code contains the following items:
⦁ Extreme Training [100%][1 hr] x5
⦁ Town Travel +Lv.1 [7 days]
⦁ PC Café Premium Item [7 days]
⦁ Class Changer [15 days]
⦁ Immortal Medics Gear Set [7 days]
⦁ Soul Set: Prelude to the Storm [7 days]
⦁ Resurrection Count Reset Scroll x3
Note:
1. Coupon codes can only be used with an existing WEBZEN account.
2. Coupon codes are limited to single use per account.
3. All items are bound to character.
About:
CONTINENT OF THE NINTH SEAL (C9) takes players to the fantasy world of Glenheim, in which they fight against evil forces and gigantic monsters.
More Giveaways:
Games You May Like