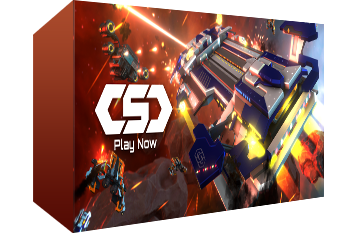 CSC Gift Key Giveaway
FREE
MMOBomb and Lucid Sight have partnered up to score YOU a gift key with in-game items for CSC! Each gift key unlocks launch crates with extra ships and modules to kick your CSC game into overdrive.
To unlock your key instantly you just need to complete all the steps on the top. Grab your key NOW while supplies last!
How to use your Key:
1. Complete all steps on the top to unlock your key
2. Create an account on csc-game.com or Steam.
3. Go to Store and locate Commander Starter Pack under Starter Pack tab.
4. Choose USD option and select Buy 1.
5. In the checkout window input giveaway code into Coupon Code location and select Apply.
This key contains the following:
⦁ Launch crates with extra ships and modules
Note:
1. Each key can be redeem just once and each person cannot redeem more than one of these keys.
About:
CSC is a free-to-play casual-friendly space MMO sandbox game that delivers fast-paced combat, a robust economy and deep crafting system, on Steam. This game offers the best of both worlds to gamers of all levels. Players can get into CSC quickly to battle, explore and run missions in minutes, not hours. At the same time, dedicated MMO enthusiasts can dig deep into an ever-expanding universe and a rich player economy that rewards game time with real-money value in-game items.
More Giveaways:
Games You May Like