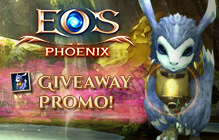 Echo of Soul Phoenix Gift Key Giveaway
FREE
MMOBomb and Aeria Games are teaming to get our readers a free gift key for Echo of Soul Phoenix. Each key contains one beginners pack plus an exclusive Pet.
To unlock your gift key instantly you just need to complete all the steps on the top. Grab your key now and get into the action!
How to use your Key:
1. Complete all stepts below to unlock your key!
2. Create an Echo of Soul Phoenix account here.
3. Redeem your key here.
This key contains the following:
⦁ Beginner's Pack (NT)
Contains a variety of useful items for beginners. Contains Novice Soulkeeper Ring x2, Enhancement Stone x3, 12-Slot Bag x1, Friggard's Blessing x3, Njord's Blessing x3, Edun's Blessing x3, Server Loudspeaker x5, and Novice Soulkeeper's Gear Pack x1. The items in this pack are untradeable. Requires 9 empty slots in your bag.
⦁ Blue Baby Llama - 30 Days (NT)
Summon a Blue Baby Llama - 30 Days. It automatically loots for you. Usable for 30 Days. Use an Hourglass to extend use period. The Pet is untradeable.
Note:
1. Each code can be redeem just once and each person cannot redeem more than one of these codes.
About:
Echo of Soul is in dire need of a hero to fight the evil! Are you ready to join this MMO and defeat powerful monsters? Find out and sign up now to join the exciting race of guild vs guild game.
More Giveaways:
Games You May Like